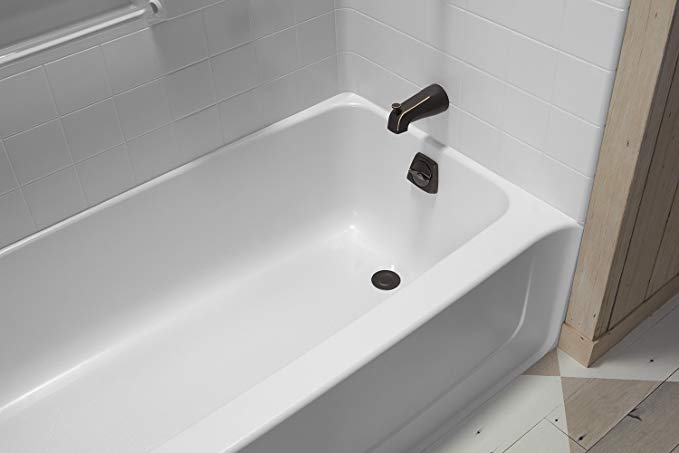 Your guide to choosing from the Top 5 Best one piece bathtub shower combo
Should you choose a bathtub or a shower? This decision affects many more aspects than just the aesthetics of your bathroom. Bathtubs are cozy while showers consume less space. Did you know that bathtubs can also significantly boost the value of your home? Now in this never-ending battle of which one should be labelled a better choice, designers came with a better conclusion- why not pick the best of both worlds? Enter bathtub shower one piece combos!
What is a bathtub shower onepiece?
Some even call it the prefab bathtub shower and there are different names that manufacturers might use to label this product. It is as simple as it sounds – a bathtub that also comes with a shower unit. There are many sleek designs available for the tight spaces so you can use them in small bathrooms as well. To make it easy for you to visualize what you would get from this combo, we will talk about 5 of the most popular products in this category. We will then get into the details about how to choose one and how to make this design concept work for you.
Onepiece bathtub shower combo vs DIY variants
You would find plenty of kits and plumbing hardware as well as wall units on ecommerce sites. These can all be used in any bathtub that you already have. You can use the wall kits to add a shower system to your existing bathtub. This doesn't require too much of extra work. If you are planning to refurnish your bathroom or furnish a new one from scratch there are prefabricated bathtub and shower combos in the market. There are many like this from Sterling, American Standard and other brands. These are nothing but bathtubs integrated with a wall unit complete with the shelves for storage or even a shower niche. There is nothing extra to buy for a shower kit in this case. You only have to find the right spot and install the unit.
Here are the 5 popular products to check out if you need to create a bathtub shower setup.
A quick comparison
| | | | | |
| --- | --- | --- | --- | --- |
| STERLING 61040120-0 All Pro Bath and Shower Kit, 60-Inch x 30-Inch x 73.5-Inch, Right-Hand, White | STERLING, a KOHLER Company Accord Complete Bath/Shower with Left-Hand Drain | STERLING 71220110-0 Ensemble Bath and Shower Kit, 60-Inch x 32-Inch x 74-Inch, Left-Hand | STERLING 71090116-0 Acclaim Bath and Shower Kit, 60-Inch x 30-Inch x 72-Inch, Left-Hand, White | Kohler Accord Bath/Shower Kit with Age-in-Place Backers with Left-Hand Drain Finish: High Gloss White |
| This is a great choice if you need something for a large family, thanks to the spacious design | This one packs a lot of ergonomic aspects in design and a neat geometric design back wall | If you need a bathtub combo for a small bathroom, this is one of the slimmest options out there. | This features a clean look with arches on the back and side walls for aesthetic appeal | This is one of the best choice for those families with elderly people. |
Best fully assembled one piece bathtub shower units
1. STERLING 61040120-0 All Pro Bath and Shower Kit, 60-Inch x 30-Inch x 73.5-Inch, Right-Hand, White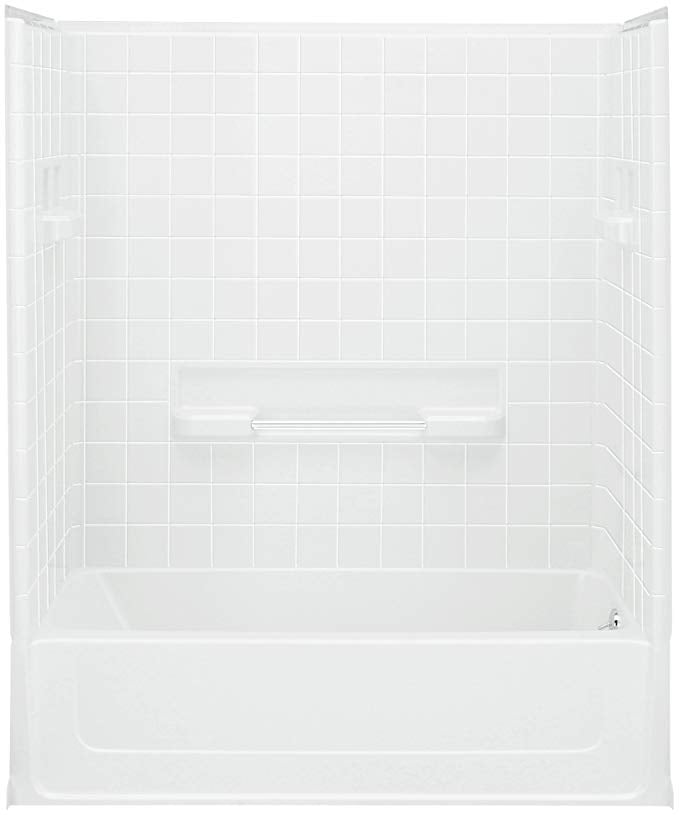 This all in one kit comes with a 3-piece wall unit and a spacious bath tub. This product excels in terms of the additional features in the design. There is a convenient to access towel rod. There are 4 integrated wall shelves for storage. Made of Vikrell this bathtub shower kit is long lasting.
---
2. STERLING 71240110-0 Plumbing Accord Bath/Shower With Left-Hand Drain, White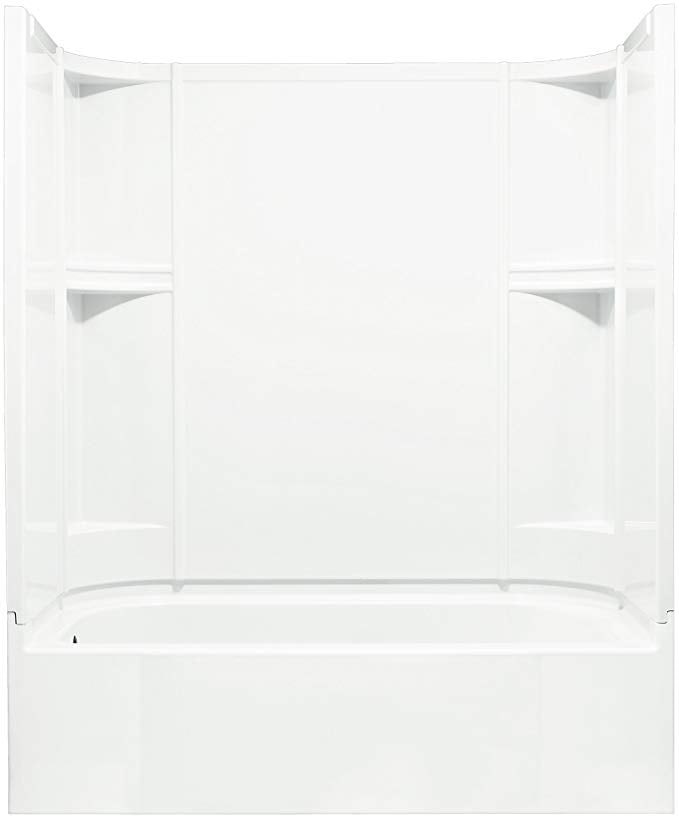 The Accord range is another popular choice when it comes to choose bathtubs with built-in shower systems. You can choose from two color options namely white and biscuit. There is an eye grabbing tile like geometric detailing provided on the back wall.
---
3. STERLING 71220110-0 Ensemble Bath and Shower Kit, 60-Inch x 32-Inch x 74-Inch, Left-Hand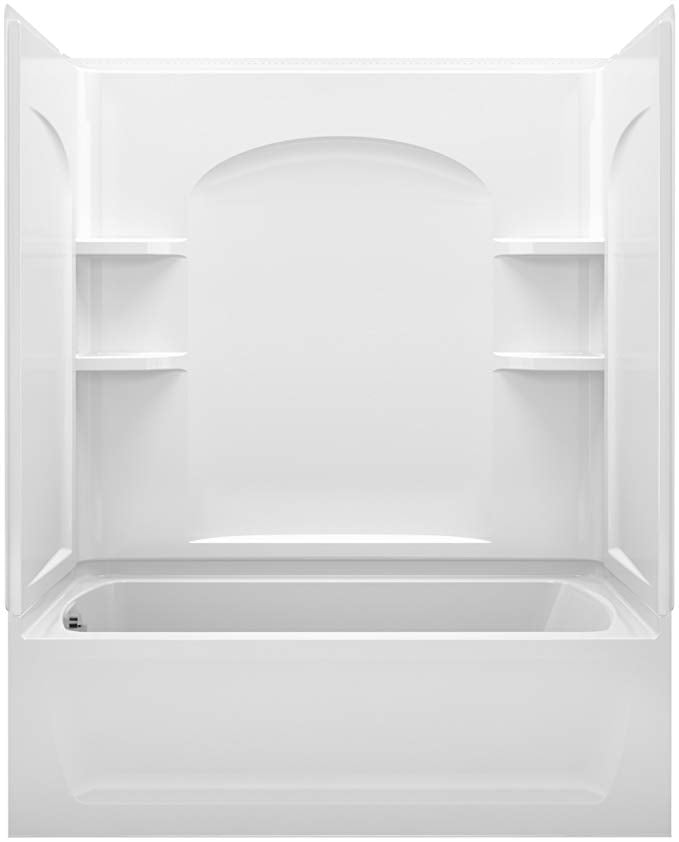 There are smooth finish curved walls in the unit which makes this one look elegant while also solving the purpose. There are spacious convenient storage shelves in the corners. There is a neat 18" apron included in the design.
---
4. STERLING 71090116-0 Acclaim Bath and Shower Kit, 60-Inch x 30-Inch x 72-Inch, Left-Hand, White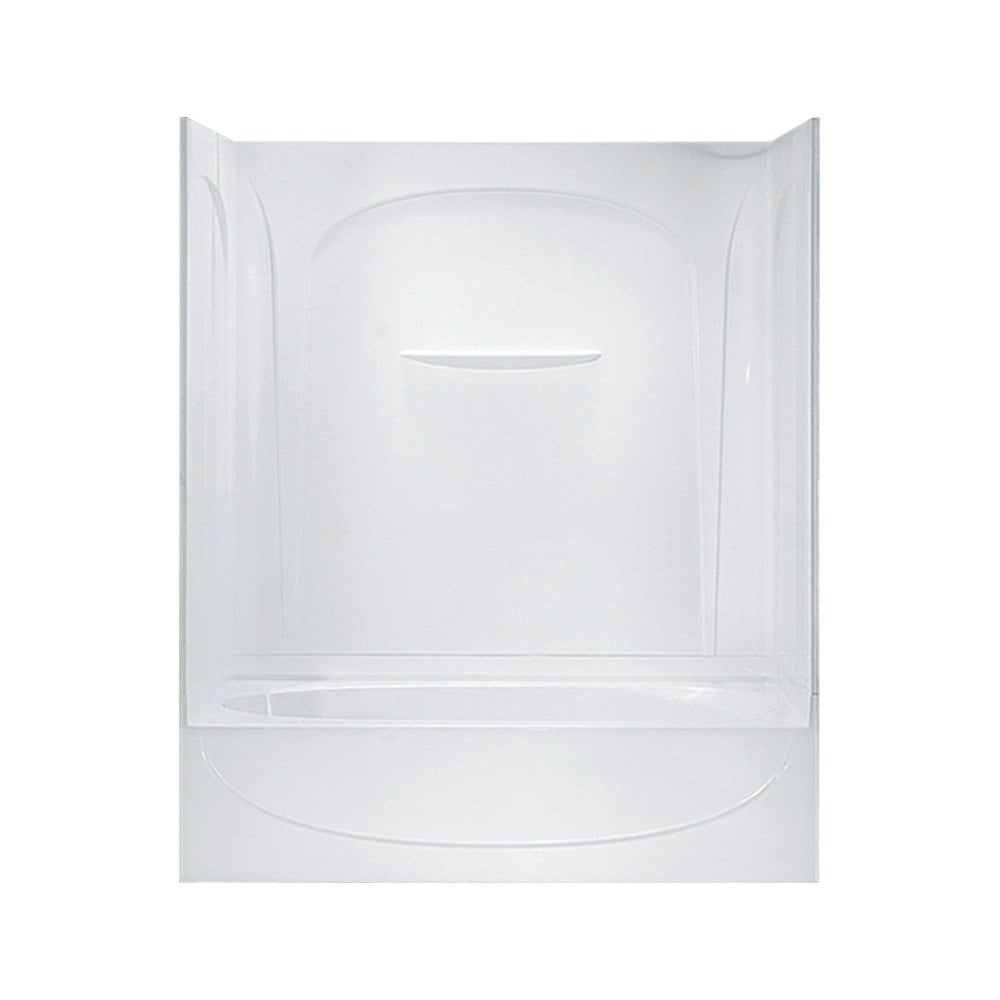 If you need something that comes with a pleasant look to suit any bathroom style vintage or modern, this is an impressive option to consider. There is an interesting molded-in back wall design. It comes with a 15" apron. You also get a 3" factory installed extension if you need to tackle the installation of AFD or above floor drain.
---
5. Kohler Accord Bath/Shower Kit with Age-in-Place Backers with Left-Hand Drain Finish: High Gloss White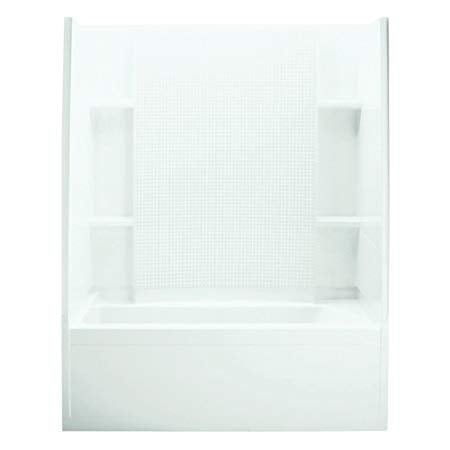 One of the best aspects of this one is the aging in place backboard it features. There is a whole lineup of products that are compatible with ergonomic features for the elders. The backboards on this one are designed such that you can effortlessly install a grab handle on the backboard when required. This model has a sunken and efficient left hand drain. There is a glossy finish which stays as good as new with minimal maintenance.
For existing bathtubs you can use a one-piece wall mount setup like Durawall® Thermoplastic Bathtub Wall Kit, Whirlpool Sized, 5 Pieces, 6 Shelves. These can be snugly installed above rectangular bathtubs to create a combo design instantly.
If you have a traditional Clawfoot bathtub the options are going to be slightly different. Take a look at the "DANCO Add-A-Shower Bathtub to Shower Conversion Kit for Clawfoot Tubs" for example. Products like this one come with a complete shower installation system for the oval shaped Clawfoot tubs where adding back walls without gaps would be impossible.
---
FAQs
Do combos help you save money?
Yes. One of the biggest perks of getting a tub shower combo installed is that you get the benefits of both the configurations in one at a reduced cost. Today with the growing demand there are plenty of affordable options available as well.
Are tub shower combos easy to maintain?
Yes. The major problem with cleaning bathrooms is because of the growth of mold and mildew. When there are clean finishes without wall gaps cleaning becomes easy. The grout between the wall and the tub is another space that's difficult to clean and this is eliminated in the tub shower combo design.
Will your home value be affected if you get one of these?
The fact that showers can slightly lower the value of the home is not often spoken about, so, if you wish to install only the shower, your would better off doing it only in the guest bathroom. In the family room it is always a good idea to get a tub. The combo design due to its added convenience, adds to the home value like a bathtub.
Can you install a bathtub shower combo in a small bathroom?
Yes, there are slim designs like the Ensemble range in our list if you have a narrow bathroom. For further space saving configurations there are also corner setups available.
Are bathtub shower combos suitable for families?
From slightly reduced depth of the bathtub to grab bars and other ergonomics there are various elements that make tub shower combos as convenient as any standalone tub or shower setup. This makes them suitable for families with kids and elderly.
---
Buyer's guide
What should you look for when you buy a bathtub shower combo?
There are many brands that are popular around the world in the sanitaryware segment. Sterling by Kohler, American Standard and many other sanitaryware brands offer the combo designs. These are also available to shop online. This makes it easy for you to compare all the options available and also understand the configuration before you place the order.
Ease of finding parts and accessories
Picking reputed brands has one of the biggest benefits – you can find spares and upgrade parts easily. Most of the brands offer compatible spares for their popular models in tub shower combos. You would also be able to choose from OEM products designed for such popular models in the segment.
Installation support and warranty
Again, working with a popular brand means you get support in terms of the installation. Most of them also offer several years warranty on the product itself and the parts which would help you to handle quick repairs easily.
These are expensive investments for the bathroom and can drastically affect the looks and the functionality of the bathroom. Installation of bathroom tub shower combo is time and money intensive. So, you really need something that lasts for years. Find those that do not chip or break too easily. If you have kids at home, then there would also be a lot of wear and tear as well as scratches from bath toys and more. You might need something with a long-lasting finish.
Measure the size of your bathroom and the design between the walls to choose the best fit tub and shower combo. The wall unit directly goes on the wall so you would also need a flat wall surface behind.
This provides the convenience of getting the tub combo to the bathroom you wish to renovate. Positioning and alignment also become easy in this case.
Installation of shelves on the back and side walls damage them. Pick something that comes with built in storage, spacious enough to hold all your bath essentials. In terms of the storage-based features All Pro model, the first one on our list, features a nice design.
You need something that comes with easy to clean surface. This reduces your work in the long run and also provides a more hygienic environment. The ones that come with low maintenance features are also the ones that keep sparkling like new for years together. These also do not get discoloured that easily. White stays white!
Conclusion
Given the many benefits of choosing a combo shower tub design this is growing to be a popular trend. You would be able to find products in all budget ranges. If you need something that is not too expensive and comes with a fuss free setup then the Ensemble series in Sterling range of tub showers is worth a shot.
Reference:
https://www.huffingtonpost.in/entry/baths-versus-showers_n_57f81387e4b0e655eab4530d