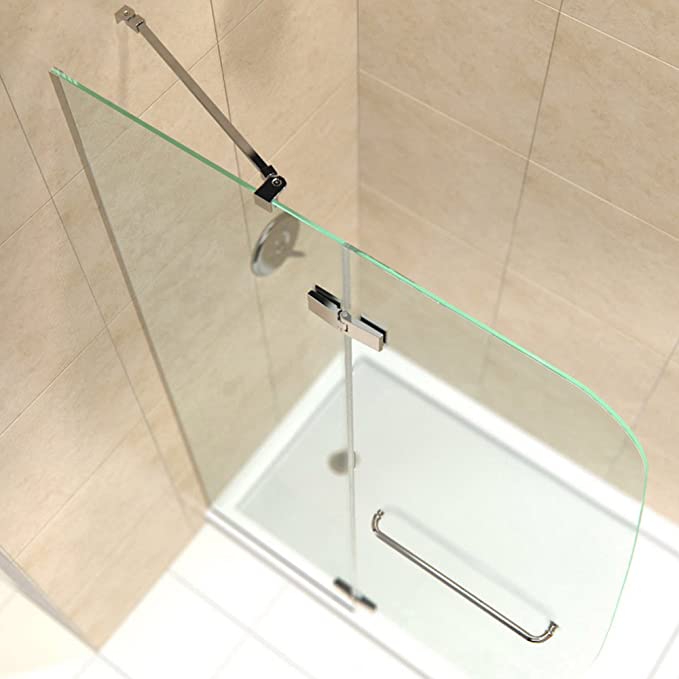 Top 5 Best Frameless Shower Enclosures For An Amazing Experience!!
Frameless shower doors have become very popular in recent years because many people like clean and minimalist aesthetics. Responding to this, the manufacturers have come out with a wide selection of the best frameless shower doors. Though having many options is great for you, but it can be very confusing. Here is a list of five best enclosures.
1. Most Elegant: DreamLine Aqua Ultra Hinged Frameless Glass Shower Door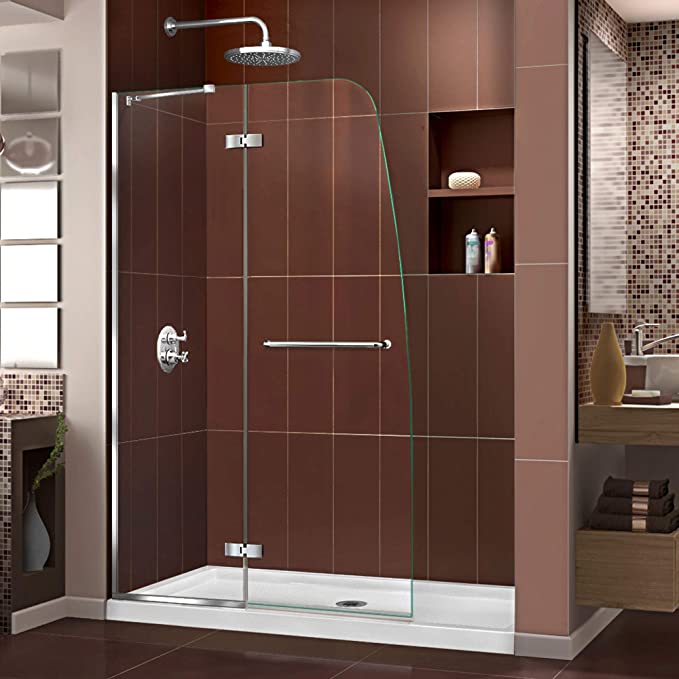 This door brings an open and elegant feel to your bathroom. Its design is modern with a European flair. The high-quality door can fit any shower space. It has a striking chrome finish. A towel bar is integrated into the design beautifully. Its aluminum U-channel allows adjustments on uneven surfaces.
---
2. Best Design: WOODBRIDGE Frameless Sliding Shower Door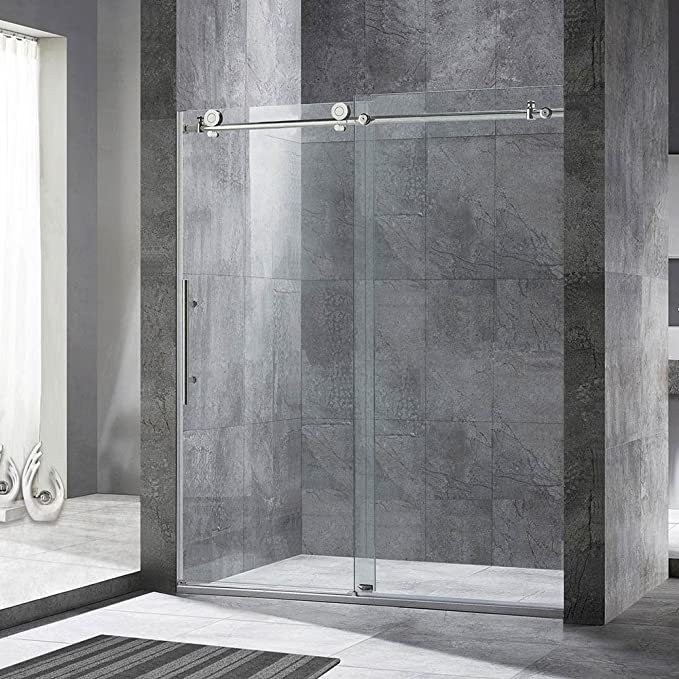 Its design is great with large stainless-steel rollers for smooth and quiet operation. There is a top rail that ensures wall anchoring and wall stability. It is available in many colors. The stainless-steel hardware will not rust, chip, or scratch off easily. Its anti-splash threshold prevents water spills.
---
3. Most Luxurious: KOHLER K-707551-L-SHP Revel Shower Door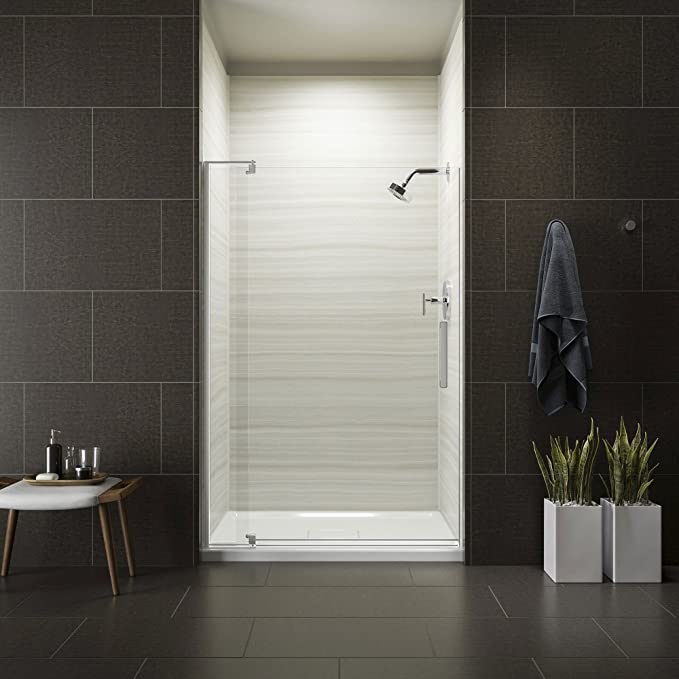 This door has an open, airy, and minimalistic design. It has a low threshold. You can easily personalize it because it is available in many finishes and glass options. Its installation is simple, with an adjustable-width door. Its 5/16-inch-thick crystal, tempered glass gives a luxurious feel.
---
4. Best Minimalistic: Aston Cascadia Completely Frameless Hinged Shower Door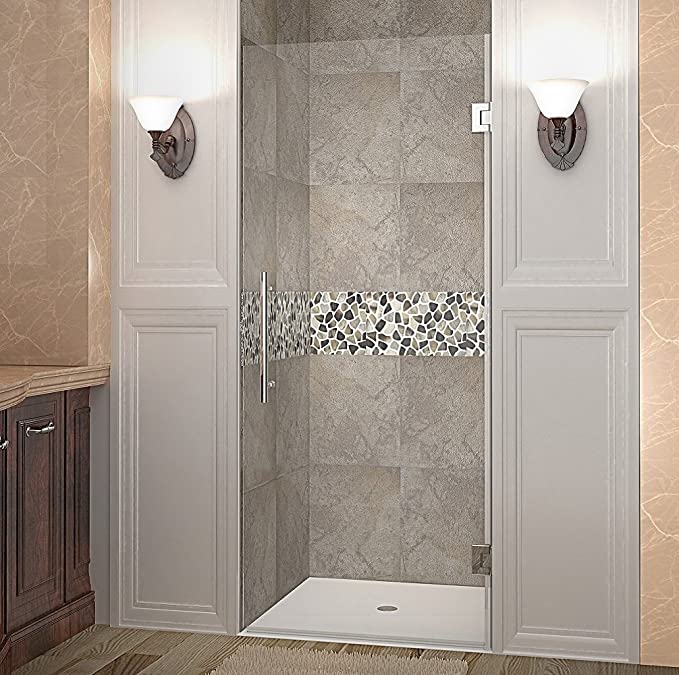 This is an entirely frameless hinged door. It has premium 3/8" tempered safety glass, which is ANSI certified. It is reversible, and you can install it on the right or left wall. It is available in polished chrome, brushed stainless steel and oil rubbed bronze finishes.
---
5. Ultimate Sleekness: VIGO VG6041STCL5274 Elan 48 – 52 Inch Sliding Frameless Shower Door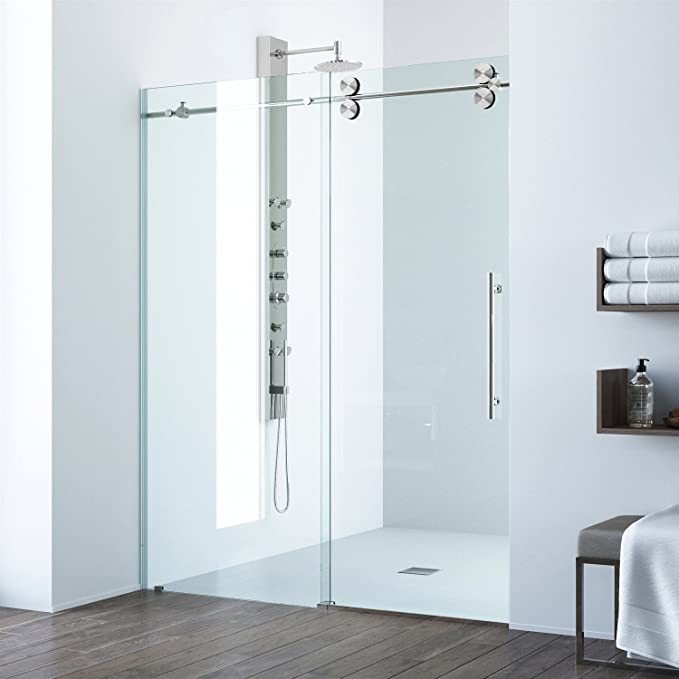 It has a classic roller sliding door design and has a very sleek, modern design. The clear tempered glass and stainless-steel hardware are built to last. The door opens and closes smoothly and quietly. There is a discrete door handle, which is very chic. The setup and installation are effortless, and the instructions are clear and precise.
---
Buying Guide
The main considerations while buying a frameless shower door
Keep the following things in mind:
Fully Frameless Vs. Semi-frameless
There is not much difference, and the sellers may confuse you by using the terms in different ways. Some doors have a long U channel at the bottom or sides to secure it. Some people call it frameless, while some call it semi-frameless.
Hardware
There are clamps, hinges, and maybe handles, etc. which can be brass, aluminum, or some other metal. Make sure of its quality because the glass doors are quite heavy. Brass is better than most other materials. Also, choose the right finish so that it looks good and lasts for a long time.
Hinges
Installing hinges on a glass door is very different from doing it on a normal door! The hinge must be able to take the weight and work smoothly. You can choose from
Door-to-wall hinges
Pivot hinges
Glass-to-glass hinges
Each one has its advantages and disadvantages, so it is better to ask a professional before installing it.
Type of Glass
The glass in frameless doors is quite thick. Generally, two sizes are best: 3/8 and ½ inches. If it is thinner than this, it can become wobbly and unstable. Apart from thickness, you must also choose the type of glass. You may choose clear, frosted, or tinted glass. Most of these glasses are tempered glasses to make them stronger.
Accessories
Ask the seller about the accessories which come with the door. There are some that you can add on your own. Some doors come with handles, towel bars, etc. You may ask for a threshold to prevent leakage and also ask for specific rails and towel bars. Always use the recommended glass cleaner to keep the glass clean for a longer time.
---
Frequently Asked Questions
Q. Framed or frameless door, which one is better?
A. It is a matter of personal choice but remember that frameless doors are more expensive and less stable when compared to framed doors. Aesthetically and design-wise, frameless doors are better.
Q. What are the pros and cons of frameless shower doors?
Pros and cons of frameless shower doors are:
Pros:
Can be customized and made as per personal choice
Looks better and gives an open and airy feeling
Minimizes mold risk
Cons:
They excel in looks but may lack in performance
They cost more
Frameless glass shower doors can shatter and cause injuries
Q. How can you stop a frameless shower door from leaking?
A. Generally, caulk can seal the edges and prevent water from splashing out. Worn out or missing caulk may cause a problem. Some doors also have a sweep attached to the bottom to keep water from getting out.
Q. How much does a frameless shower door cost?
A. Frameless shower doors cost more than standard glass shower doors. Depending on factors like quality of glass, hardware, size, etc. they may cost
On Average: 1000 to 1500 dollars
Low End: 500 to 1000 dollars
High End: 1500 to 3500 dollars
Conclusion
No doubt, a frameless glass shower door looks beautiful and gives a unique look to any bathroom! Once you have made up your mind, then you have the difficult task of choosing the right one. We are sure that after reading this you will be in a better position to make the right choice!