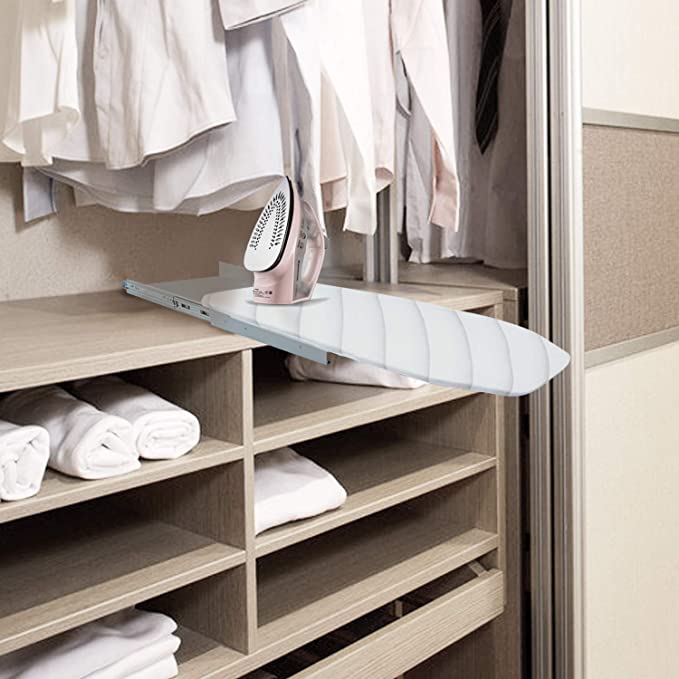 Top 5 Best Hideaway Ironing Boards
A hideaway ironing board is a functional storage space and is worth every buck because of its multi-purpose usage. This multi-function storage comes with an ironing board that is foldable and shelves. Hideaway ironing cabinets are an efficient storage solution. It not only comes with a built-in ironing board, but it also provides additional storage space for ironing covers, ironing pad set, clothes, sewing items, etc.
A few efficient storage methods can make your room look spacious. You can pack and store storage boxes in cabinets, but it's not the same case when it comes to clothes that need to be ironed. They usually end up on the ironing board in the corner of the room all piled up and leave your house in disarray.
Here are a few things you must keep in mind while looking for a hideaway ironing board:
Make sure you have enough space for the installation of an ironing board cabinet. There must be enough space outside the cabinet as well, so you have a comfortable arrangement after pulling out the ironing board.
Make sure your cabinet has enough space for the equipment you wish to store.
Do you find more than one options that fit your requirements? Here's a solution if you're indecisive. These are the top five hideaway ironing boards that you can select from:
1. StowAway cabinet | Best Built in Ironing Board
The StowAway ironing board cabinet is installed into the wall. It comes with a built-in ironing board and storage space. The cabinet comes with all the necessary hardware required for the installation. The cabinet cannot be installed onto the wall. It has a wood board that fits entirely inside the wooden cabinet. The wood board folds out to 44.5" distance from the wall. The board also swivels fully from left to right. The cabinet has two storage shelves. The ironing board's dimension is 11.75" x 41". The storage has heat resistant plates next to the shelves. This ironing board is a perfect fit for laundry rooms and kitchen. The cabinet is available in a few different finish options. You can also shop this cabinet with covers and iron pads or even without it.
---
2. Hide Away Sup400 ironing board
This is one of the best brands in the field. The exterior of this cabinet has an oak finish. It has an in-built ironing board and panel doors. The cabinet is built to consume the minimum space. The interior of the cabinet has the needed storage and amenities you will require for ironing.
The board is sturdy and long-lasting it is made out of metallic material. The ironing board swivels 1800 easily. It comes with a built-in hanger that allows efficient storage for clothes and easy ironing. The cabinet has two shelves. One shelf is for the storage of clothes, and the other is for the storage of the iron. The top shelf is for the iron box's storage, and the bottom shelf has the hanger for the clothes.
---
3. Iron-a-way ironing board
This hideaway cabinet is non-electrical. It has a premium built-in ironing centre with good features. This Iron-a-way ironing cabinet provides a flexible board with 42 swivel adjustments. It is very easy to use and is ideal for laundry rooms and small spaces.
The cabinet has a 42-inch ironing board and is built out of sturdy steel, making it durable. It can swivel a full 180 degrees. This allows you to install it comfortably in any location. It also has a 4-inch adjustment feature, making it effortless for anyone to use it at any height. The swivel and flexibility allow maximum adjustment capacity and makes it a very comfortable ironing board. The steel board adds more to the quality of the hideaway ironing board cabinet.
The board has a well-built undercarriage, which is custom-designed for ironing. It has an aluminum swivel with ball bearings and has additional springs for added support and stability. The board has a very convenient cord wrap. It allows a smooth ironing process. It keeps the extra length of the cord in place to allow smooth glides. After you're done ironing, you can store the iron in the heat-resistant storage area. The cabinet can be installed into the wall. It can also be mounted on the wall.
---
4. Slide-Away Ironing Board
This is a wall-mounted ironing board cabinet. This cabinet is for you if you're looking for efficient storage but make it stylish. This slide-away ironing board provides enough storage space and comes with a built-in board. It is the best choice if you prefer minimalistic designs and details. It is very easy to set-up, which makes it even more impressive. The in-built ironing board is very easy to manage and folds out swiftly without any hassle.
You can find out the most comfortable angle to iron as the ironing board can swivel 180 degrees. This makes it suitable for both right-handed and left-handed people. The cabinet is pleasant to work with and is also handy. The double panel door of the ironing board is wrapped with PVC vinyl. This makes the cabinet look good and sit well in any room. The cabinet comes with an easy installation step-by-step instruction. This cabinet allows you to enjoy the luxuries of an in-built wall cabinet without actually having to cut into the wall. The cabinet is to be installed onto the wall, which gives you more options to relocate the cabinet.
---
5. Nisorpa Ironing Board
This pull-out Nisorpa ironing board is very easy to use. It can be mounted anywhere according to your comfort. It can be mounted inside a closet or even a drawer. It is very suitable for you if you're looking to save some space. It is a perfect addition for tiny spaces, studio apartments, laundry rooms, RVs, etc.
The iron board can easily swivel 180 degrees. It can be locked in any desired potion, either left or right. The board can also be inclined. The board comes with a heat resistant cover. The cover can be machine washed and be changed. It is made out of 100% cotton.
As mentioned earlier, it can be easily installed in cabinets. The size should be of depth more than 14 inches and width more than 20 inches. The frame is made of heavy-duty steel. The efficient pad allows heat to dissipate faster and allows quicker wrinkle-free results.
---
FAQs
Why is ironing board necessary?
Although there are many alternatives for an ironing board, they come with more benefits, and it is a more useful option to go or.
An ironing board helps you achieve the best results. And a hideaway ironing board provides extra storage while taking the minimum space in your room and providing equal space to work on. An ironing board provides a firm surface, giving a wrinkle-free and smooth result.
How to select the best ironing board?
It is tricky to select the right ironing board. But knowing what qualities are important, you can make a more informed decision and select the perfect one. Here are the qualities you should look for:

Size
Size is important when you're going for a wall-mount ironing board or a hideaway board. The size will determine how much space you need to have overall, especially if you have less space. Make sure you check and confirm the dimensions.

Material Used
An ironing board can be made from a variety of materials like steel or wood.
You can take this decision based on your personal preference or aesthetic. Or you can go for a long-lasting material like steel.

Installation
Not everyone has a strong hand at DIY. If you don't want a complicated task, make sure that your ironing board is easy to set up and comes with the necessary tools.
Some boards are easy to install, while some can be complicated and have more parts to put together. So, this is another essential factor you need to keep in mind while shopping.

Flexibility
A flexible ironing board provides a lot of freedom to work on it. It is comfortable for both right-handed and left-handed people. Some boards can move up to 180 degrees. It also allows you to iron while talking or watching tv.
---
Summary
After going through the best five hideaway ironing boards, finding the best one should be effortless for you. We have compared the best hideaway ironing boards based on durability, material, effectiveness, price, etc. All the boards mentioned in the list are best in different ways, so you can select what's best for your requirement. Every product has its own pros and cons for you to decide according to your preference. This list includes the best from the crowd to make your ironing experience efficient and effortless.