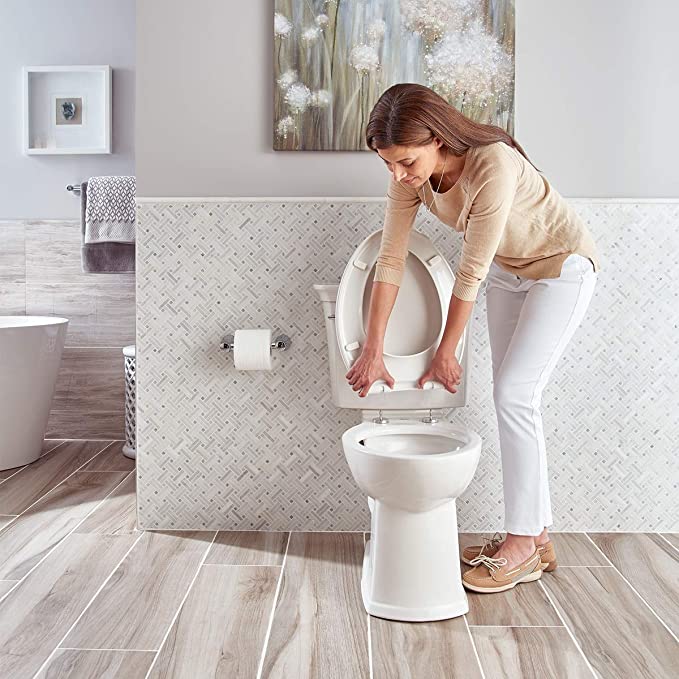 Top 5 Best toilet seats for cleaning / self-cleaning toilet seat
Why Self Cleaning Toilets?
Like everything else in our lives, our bathrooms are also witnessing technical and design innovations. Convenience is a significant factor. When you have a self-cleaning toilet, then you spend less time and effort in cleaning it. A good self-cleaning toilet will prevent bacteria build-up and even protect your health. Many leading brands have come out with some great products. We give you a list of the best five with detailed information.
1. Best Overall: American Standard 714AA154.020 ActiClean Right Height Elongated Complete Toilet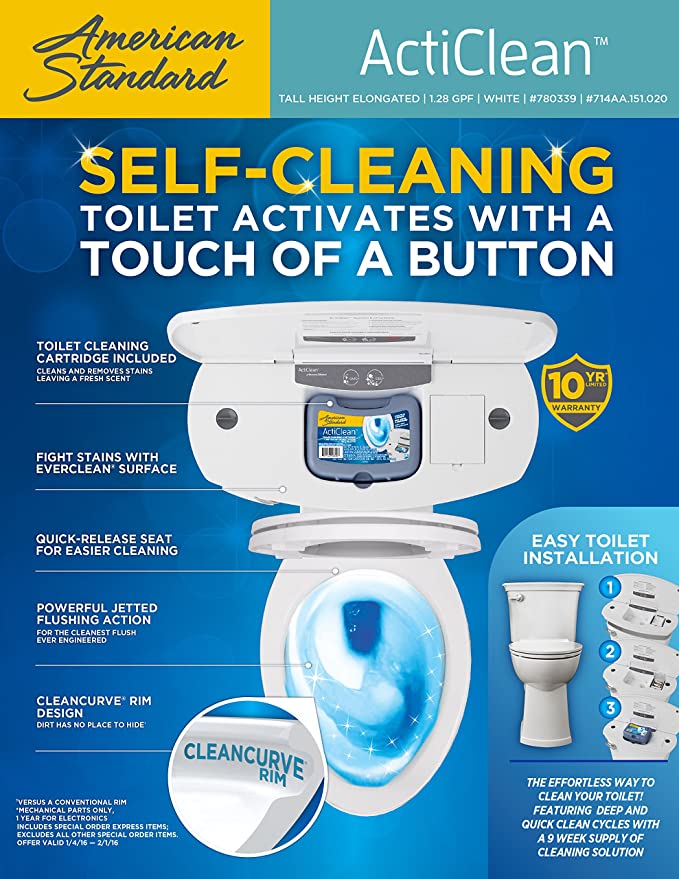 This is a competent self-cleaning toilet that cleans and removes stains just with a press of a button. There are two cleaning cycles in this. One is deep cleaning and the other quick cleaning. The best part is that it comes with an ample supply of cleaning solution, which will last you for almost 9 weeks. You will notice that your toilet smells fresh and is sparkling clean. The toilet surface has an EverClean glaze, which is very smooth and is easy to clean. Its battery-operated cleaning system is powered by 4AA batteries that give you up to 1 year of battery life and are included with the purchase.
This ActiClean system has several innovations to make it one of the best self-cleaning toilets.
---
2. Most Hygienic: Toto MS992CUMFG#01 Neorest Dual Flush Toilet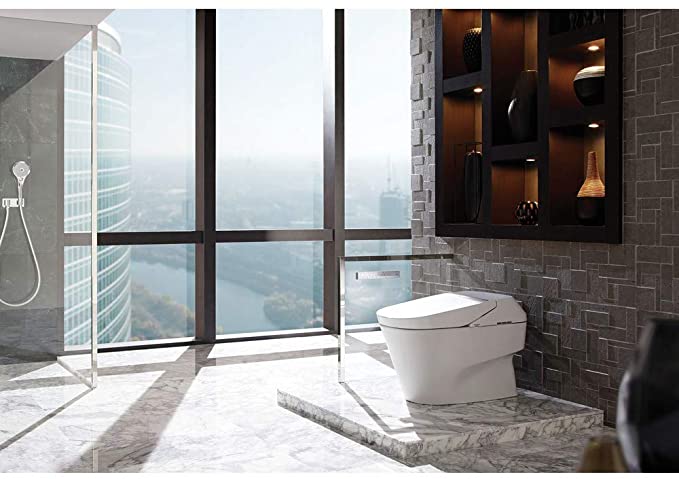 The technology used in this toilet bowl ensures very high standards of both personal and toilet hygiene. At the same time, it is also very nicely designed to look attractive in the bathroom. It has a skirted design with an efficient Double Cyclone Flushing System. Its hands-free automatic flushing makes it a very easy and safe option. There is a remote control that is convenient and can control the seat and water temperature. It has features like an auto open and close lid and seat sense, which go a long way in keeping it safe and clean.
After using this toilet, you will not find any other toilet seat good enough for you! It has a lot of features which will keep you and your bathroom very hygienic.
---
3. Smartest: Ove Decors SMART TOILET Single Flush System and Heated Seat with Remote Control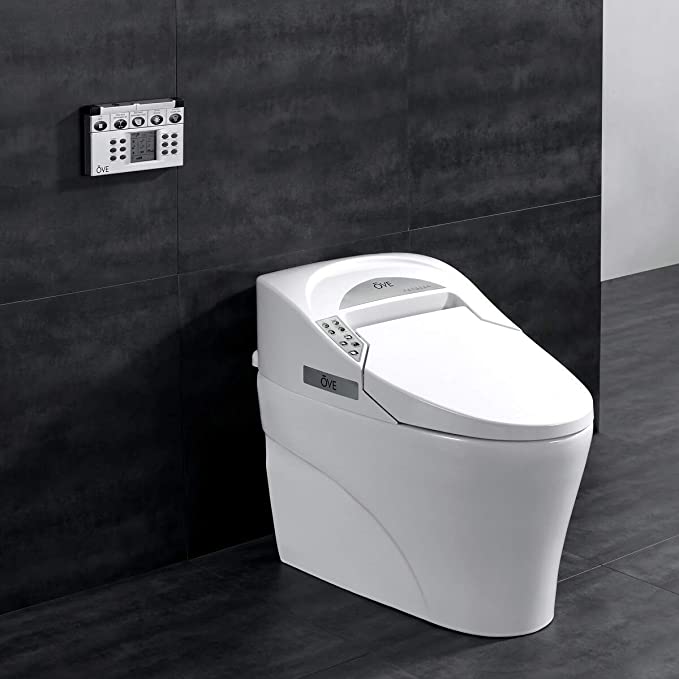 This toilet is a smart one! It is an excellent combination of a ceramic toilet of high quality and advanced innovations of modern toilets. It has many amazing features like seat heating, air drying, flowing water which is warm, and many more. It is also ecologically advanced as its functions eliminate the use of toilet paper. It boasts of a single high-density flush system which is powerful and leaves the toilet clean after every use. It automatically flushes after you get up and gives a hands-free and convenient experience. Its looks are its plus point with a sleek one-piece design, which is also easy to clean.
A truly smart toilet that will take care of your needs most gently and hygienically! It has great features and easy to use with the remote.
---
4. Most Luxurious: WoodBridge T-0008 Luxury Bidet Toilet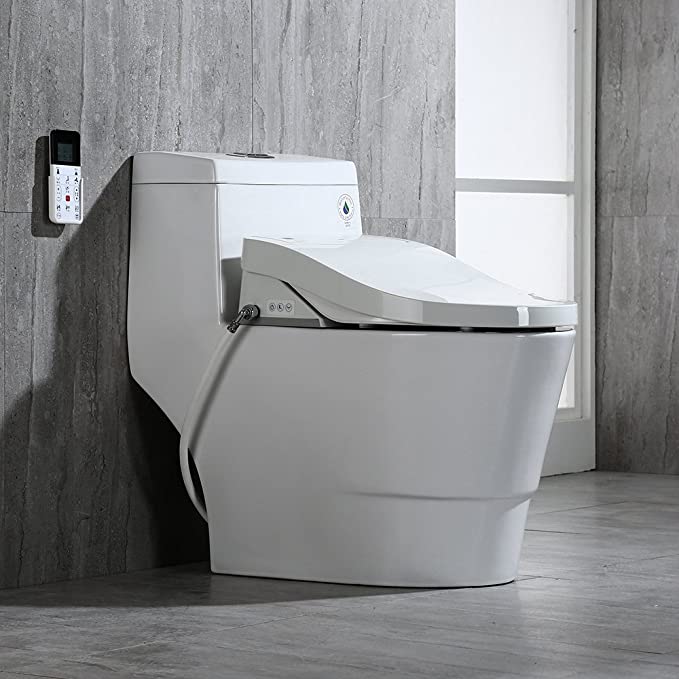 This toilet can be called a 'throne' with its beautiful design and features! This is an advanced bidet seat with hygiene, comfort, and convenience as top priorities. It is a one-piece toilet with a sleek and skirted look. It is not only about looks as it is also highly efficient. Its height is comfortable, and there is unlimited warm water. You can heat the seat, especially in the winter. There are 5 temperature adjustments available. The nozzles will self-clean and are made of high-quality stainless steel. Its quick-release seat feature is excellent and makes for easy cleaning. You can contact their support team for installation help or in case of problems.
In looks as well as in efficiency, this is one of the best toilets that you may get for your bathroom! Easy to keep it clean and maintain without any problems.
---
5. Most Intelligent: KOHLER K-5401-0 Veil Skirted 1 Piece Smart, Dual Flush Toilet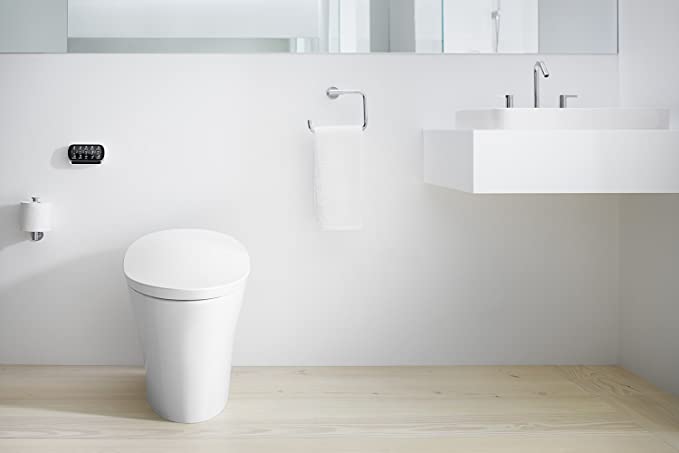 This toilet has flowing and nicely balanced curves. It is a one-piece intelligent toilet with integrated cleansing functions. It has a minimalistic and ergonomic design. It offers a lot of useful features like dual flush, hands-free opening, and closing, LED nightlight, adjustable water temperature, etc. All these features are easy to monitor and use from a touch screen LCD remote control. It is made with Vitreous China, which is easy to maintain and keep clean. The dual flush will save you water and also keep the bowl clean. Both individual comfort and clean, hygienic areas are maintained.
This toilet is designed well to make sure that it remains clean and odor-free after usage. It requires minimum cleaning efforts from any user.
---
Buyer's Guide
Consider these factors before choosing a self-cleaning toilet seat
Rough-in
The correct measurement of rough-in is essential. Generally, it is 12 inches, but in some unusual cases, it can be 10 or 14 inches. For the plumbing to work well, you must pay attention to the rough-in measurement. It will also save you time, money, and a lot of headaches in the future.
Trapway
Most modern bathrooms have a hidden trapway, but it is your decision. If you have a rustic bathroom, you can have a visible trapway. Hiding it will cost more because of the extra materials needed. Trapways are normally just about 2 inches in size, which is sufficient for average users, or you can customize it.
Glazing and finish
This is very important. Glazing and smooth finish are what make any self-cleaning toilet useful. It makes sure that any germs, dirt, or mildew doesn't form in the pores. A good quality bowl will keep your bathroom odor-free and clean and hygienic.
Brands
There are many options available when it comes to self-cleaning toilets. You should be clear about your budget and needs to find the most suitable one. There are many leading brands like Toto, American Standard, Kohler, etc. which offer great choices. They each have products with their unique features.
Type Of Self Cleaning
Check the various options available. Some are easy to use with a tablet dispenser, which will be able to clean and disinfect regularly. There are some which require you to pour out a liquid every time you want to clean the bowl. How thoroughly it cleans will depend on a lot of factors. You will have to read the fine print and see a demo of how it works to make up your mind.
Frequently Asked Questions
Q. How to keep your toilet smelling fresh all day?
A. Keep the toilet bowl clean and dry as far as possible. Any moisture, even on the outside, invites bacteria and other germs.
Put the lid down before you flush. It will keep the odors from spreading everywhere
Good ventilation is essential to a fresh-smelling bathroom.
Q. Can you keep your toilet clean without scrubbing?
A. Yes, it is possible! Mix any essential oil of your choice in a small quantity with white vinegar. Spray this into the toilet bowl and allow it to just sit for about 10 minutes or so. Now, sprinkle some baking soda into the bowl, and voila without much scrubbing the toilet will start to sparkle. If you still find very stubborn stains, then use a brush to scrub. Regular cleaning will not allow stains to form in the first place.
Q. How often should you change your toilet brush?
A. This is important because many people don't even realize how their brushes are carriers of germs and bacteria. Using a brush for about six months is the right time, but it could be less or more than six months. It will depend on how much you use it and its quality.
Conclusion
Self-cleaning toilets are getting very popular, and the main reason is convenience and busy lifestyles. Even with such a toilet, you will have to clean the underside and behind the toilet, but it will be less frequent. Moreover, a self-cleaning toilet will also ensure that your bathroom smells good and is more or less hygienic. Choose well, and this could be a great addition to your bathroom!