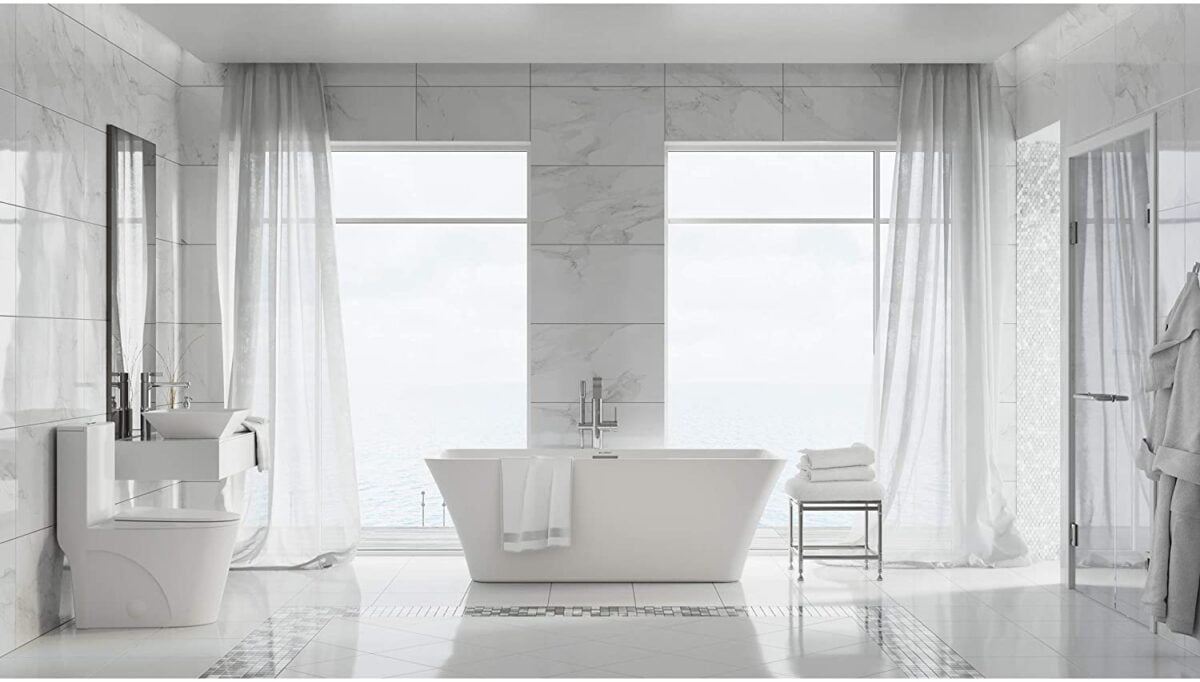 Best Bidet Toilet Combo: A Comprehensive Guide
Have you stumbled into your toilet in the middle of a cold, snowing night, dreading the cold toilet seat and icy cold water? Are you someone that has more than once landed in an embarrassing situation where you genuinely forgot to flush the toilet? And finally, are you tired of the noxious smell from your toilet even though you make sure that your toilet stays clean after every use?
All these things are of the past with the bidet toilet combo. Today we review five of the most sought-after bidet toilet combinations that are popular on the internet. Customers that have tried them swear that it has helped them overcome some of the most unspeakable issues.
Top 5 bidet toilet combo product reviews
Each of the following top five bidet toilet combos has been chosen, considering customer reviews and ratings. Some of the customers have even spoken personally to our survey executives. Without wasting too much time, let us get on to it.
---
1. The best seller – TOTO MW4542034CEFG#01
Without a single doubt, TOTO washlet with its elongated toilet and bidet seat is one of the most sought-after bidet-toilet combos on several e-commerce websites. One of the reasons this model is popular is that the seat is designed to conceal the water pipe and the power cords. The toilet bowl stays immaculately clean because the bidet performs pre-misting after each use. The product comes with three different temperature settings for water and a whopping five water pressure settings! Its seat is heated and comes with proprietary soft-close technology.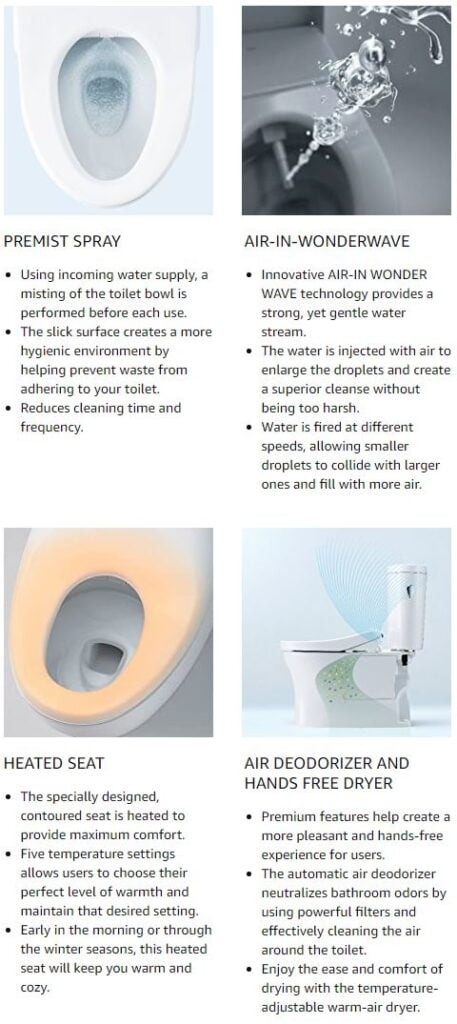 Final thoughts:
If you are looking for a toilet cum bidet with front and rear water washing with warm water, this could be a game-changer for you and your family. Trust us; you don't want to miss this product, especially in winters.
---
2. The best in Value – LUXE Bidet Neo 120
Are you someone that wants to convert their boring washroom trips into something exciting? Well, how about a spa-like experience? The Luxe toilet and bidet combination will complement all bathroom styles and increase the style quotient by multiple times. One of the best reasons Luxe makes cost-effective products is that there is a considerable decrease in the amount of time you will spend cleaning the wash area. It is also very pocket-friendly. It engages high-pressure valves that come with steel hoses and metal cores, making it one of the most durable products today. After washing, the nozzle quickly retracts and stays behind the guard till the time you use it again.
Social proof: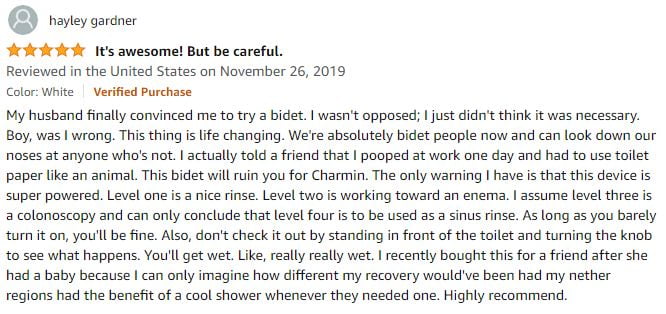 Final thoughts:
The bidet and toilet attachment are easy peasy and can be done in a quarter of an hour without calling a fitter. If you always believed in an environmentally friendly lifestyle and never endorsed using toilet paper, here is your chance to make good all the years.
---
3. Another winner – LUXE Bidet Neo 320
Once you convince yourself that you are not clean till you are squeaky clean, there is no way you will stop short unless you have this bidet and toilet seat. Luxe comes with self-cleaning nozzles and is one of the best places to start your toilet and bidet journey. Luxe Neo 320 is generally considered to be an improvement on all its earlier models. Even though the bidet is a non-electrical one, you have the option for hot and cold water sprays! Luxe is a very popular company, and you can be sure of the guarantee that it provides on all its products.
Social proof: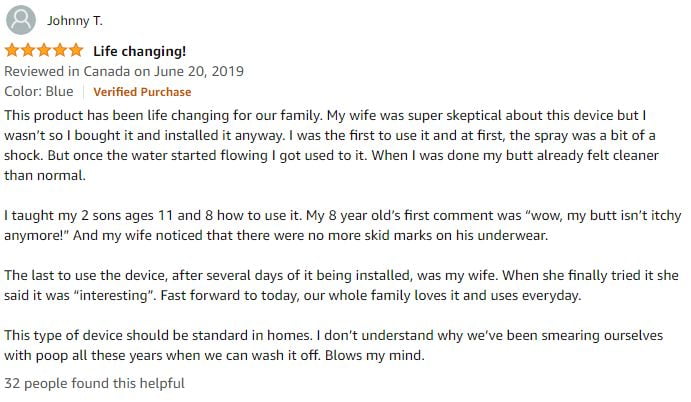 Final thoughts:
Luxe is a leading American brand and has garnered a great following. The bidet can be installed in less than 15 minutes! The bidet cover is made from PU and is removable in case it needs to be washed.
---
4. The Most Durable – Lotus Smart Bidet ATS-500
If you are a family with more seniors and very young children, it makes a lot of sense to have an electronic bidet. It will ensure that it works as needed without flooding the toilet area and leading to fatal accidents. Ladies and gentlemen, presenting Lotus ATS 500 is also one of the best-selling electronic toilet and bidet combos. It is made in Korea and comes with a heated seat, temperature control for water, and a warm air dryer. What is more, it also comes with a wireless remote and a fabulous touch control panel. It is coated with anti-bacterial material that helps shield you and your family from sickness.
Social proof:

Final thoughts:
Lotus is easy to install and comes with a 2-years manufacturer's warranty. It is a certified product and ensures peace of mind.
---
5. Best made – Swiss Madison SM-1T254
Are you a luxury fan and know for sure that nothing less will do for your washrooms? Swiss Madison could very well be the right pick for your toilets. The product is big and very suitable to be fitted in sprawling relaxing rooms. It is made from ceramic and weighs about 120 pounds. It will guarantee to give your wash area a distinguished modern look. The elongated bowl gives more comfort, and the dual flushes let you be environmentally conscious without compromising the performance. The seat has chrome hinges so that the open and close is easy and is comfortable while cleaning.
Social proof: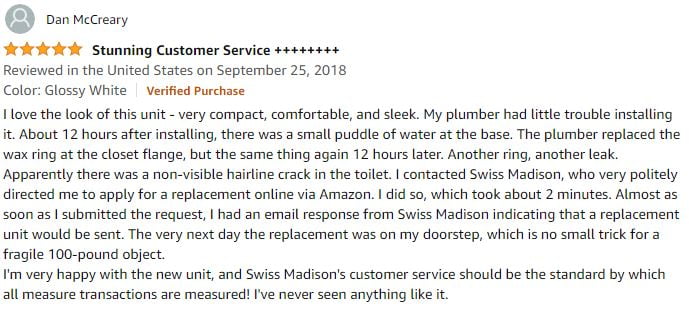 Final thoughts:
Swiss Madison is akin to an art installation. It has clean lines, looks fantastic and works even better. It is what you have to try to understand what you are missing.
---
Buying Guide for Toilet and bidet combinations:
Water efficiency:
Look for a toilet bidet combination that has a tornado flush with 1.28 gallons of water. This is by far the most efficient flush that you can ask for.
Number of nozzles:
The more the number of nozzles, the better it will clean. Choose bidets with front and posterior washes. Besides this, glaze covering on the toilet and bidet ensures that the waste does not stick to it, ensuring less frequent cleaning of toilets and, consequently, saving time and labor.
Comfortable:
Choosing the right bowl shape goes a long way in choosing comfort. You can choose between elongated and round bowls. Suppose you have less floor space, zero in on a round bowl. Choose a combo with several water and pressure settings so that it is easy to set them according to the family members.
Budget:
Look for entry-level products that do not cost an arm and a leg. Most of the bidet toilet combos are DIY enabled and come with all spare parts and tools needed neatly labeled and packed. However, if you would like to call in a fitter, the above price will include labor costs. Mechanical bidet toilet combos are cheaper than electric ones.
Durability and warranty:
The material used is of paramount importance because that will ensure if the product is worth the price. Also, it is a big hassle to keep changing the toilet, so you want to fix something very durable. Most brands come with 1.5 to 2 years against manufacturing defects.
Frequently Asked Questions:
Is there a combination bidet and toilet?
Yes, there are bidet toilet combos available that combine a toilet and bidet in one unit.
Can my aged parents use the bidet toilet combo with ease?
A bidet toilet combo is the best option for users that have restricted motion. They are comfortable and can be used by the elders, people who have undergone surgeries recently, and those suffering from muscle stiffness or other disabilities.
How to position myself while cleaning on the bidet?
You can choose to sit on the bidet, either facing forward or backward. This can be based on how your nozzles are placed and what part you want to clean. If you sit facing the controls, it will be easier to regulate the knobs and keys. But if you use a wireless remote, then, either way is fine. You must remove your pants before you position yourself on them, though.
Is an air-drying bidet a good choice?
Once you get squeaky clean using the bidet, you may want to dry out all the wetness. This is why most bidets come with an air drying system. A good drying system will ensure you don't have to use paper at all. Besides, it is good for your skin as it will prevent chafing and discomfort from wetness.
What is the downside of bidet toilet?
One of the potential downsides of a bidet toilet combo is the upfront cost, as they can be more expensive than traditional toilets. Additionally, some users may find the experience of using a bidet uncomfortable or unfamiliar.
Do you still wipe after using a bidet?
Some users may choose to use a small amount of toilet paper to pat themselves dry after using a bidet, but it is not necessary.
Is a bidet better than wiping?
Many people find that using a bidet is more effective at cleaning than using toilet paper alone, as it removes more bacteria and fecal matter.
Can a bidet replace a toilet?
No, a bidet cannot replace a toilet, as it is designed to be used in conjunction with a toilet.
How do you dry after a bidet?
Some bidet toilet combos include an air dryer, which can be used to dry off after using the bidet. Alternatively, users can pat themselves dry with a small amount of toilet paper or a towel.
Do you save on toilet paper with a bidet?
Yes, using a bidet can significantly reduce or eliminate the need for toilet paper, which can lead to cost savings and environmental benefits.
Do you need a plumber to install a bidet?
It is recommended to have a plumber install a bidet toilet combo, as it may require modifications to the existing plumbing and electrical systems. However, some bidet seats can be installed without the need for professional assistance.
Takeaway Words
Bidet and toilet combo are not just comfortable, but they also take up very little space. They are a boon to modern households because they are easy to install and easier to use. The electronic bidet and wireless remote technology have revolutionized the toilet seat in a way considered impossible even a decade ago. You can finish your business and come out squeaky clean is one of the best reasons you must be going for it now. The bonus is that you can save hundreds of trees and gallons of water from going to waste.
Reference links: