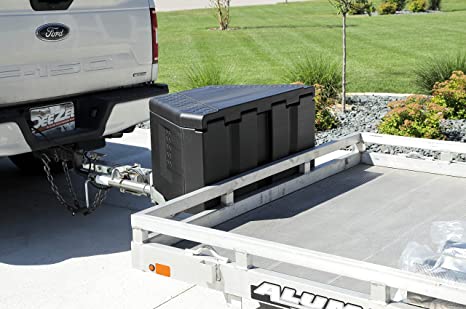 Best Selling
Trailer Tongue Tool Box
Guide For 2021
Have you sometimes found it challenging to transport small items or carry your tools with you in your trailer? Are you constantly searching for your tools because they don't fit in one storage place? Are you seriously cursing yourself when your car breaks down and not carrying your tools with you? We know that a trailer tongue box is precisely what you need. A trailer tongue toolbox will let you carry all your 7746 important tools with you without using up precious space. Surprised? We bet you are!
Bestselling 5 trailer tongue toolbox on the market today
Choosing the best trailer tongue toolbox amongst the hundreds of them can prove to be an arduous task. That is why we have done all the homework and brought out this quick browse guide that will give you the five best-selling trailer tongue tools boxes to take home with you.
1. Dee Zee DZ91717P Poly Triangle Trailer Box
Most people who have bought their first trailer toolbox have chosen Dee Zee's triangular box because it is made with high-quality, sturdy plastic that weighs only 22.2 pounds! It is 36 inches long and 24 inches wide. Its 20 inches depth ensures that you can store all your large-sized tools and equipment comfortably. The box has been tested for anti-warping quality.
Final thoughts:
The box is strong but very portable due to its lightweight. The steel latch provides extreme security from thieves. Its rugged exterior makes it extraordinarily weatherproof and the best that you can put your money in.
---
2. UWS EC20422 34-Inch Heavy-Wall Aluminum Trailer Tool Box
Are you looking for a sturdy toolbox to store and carry heavy-duty trailer accessories like wheel chokes, electrical equipment, and straps? Presenting the UWS heavy-duty aluminum toolbox that is about 35 inches long and 17 inches wide. Its 13 inches depth is enough for carrying a world of equipment that you will need en route. For the huge size and the heavy-duty material, it amazingly weighs only 23 pounds! The best part about the toolbox is its high-quality lid that comes with rigid core technology. The lid has solid foam that increases its strength.
Final thoughts:
This trailer tongue box has excellent storage and security features. The aluminum is corrosion-free, and the stainless steel lock and handle ensures all your valuable spare parts and tools are safe and secure.
---
3. Better Built 66212321 Tool Box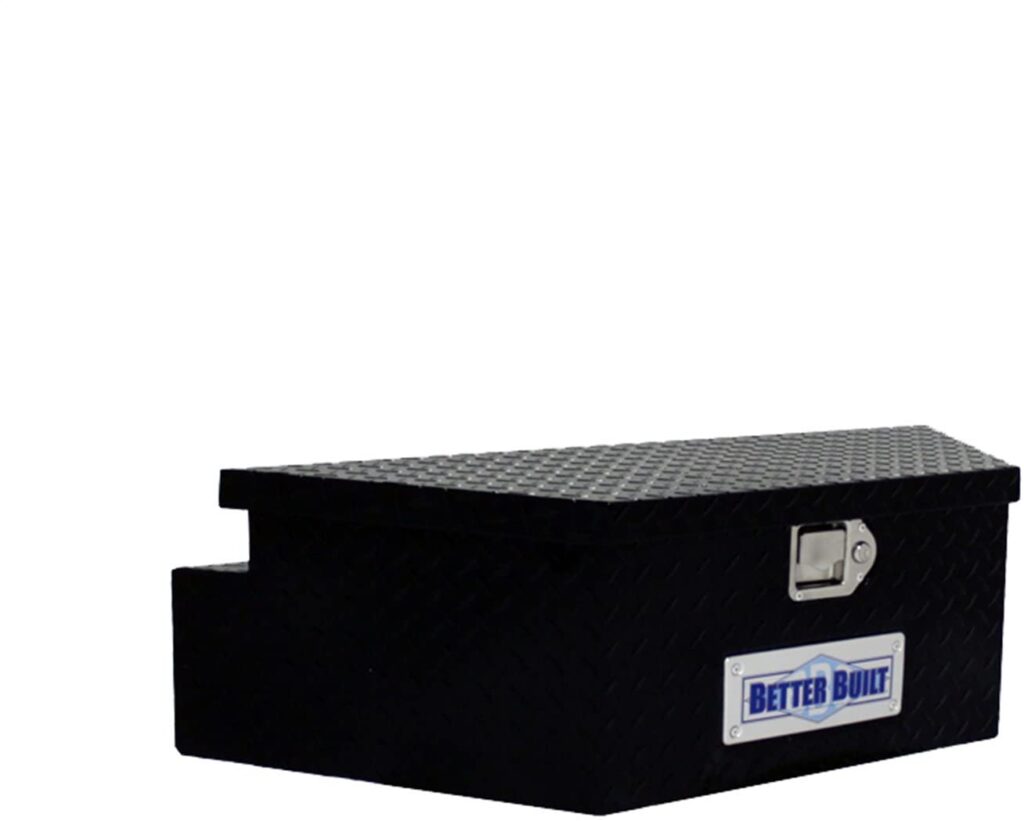 This is a very popular trailer toolbox and is also well-reviewed across all platforms on the internet. It is made of Aluminum and is almost 40 inches in length! The width is 17 inches and 12 inches in depth. It weighs the lightest at 17 pounds. The entire product is made from rust-resistant aluminum that has a diamond tread to resist dents. It can comfortably carry straps, hubs, and bearings. Imagine carrying everything you will need without worrying that it will rattle or get lost or become rusted in adverse weather conditions.
Final thoughts:
If your easy and convenient storage box is on your mind, don't miss this one out for the world. The overall size and looks of the trailer box itself are enough for it to go flying from the shelves.
---
4. Lund 76120 16-Inch Aluminum Trailer Tongue Truck Box
This lovely trailer toolbox is made in Aluminum and is only 24 pounds in weight, making it one of the best boxes for you to carry your tools to and fro from your garage to your vehicles. The black color adds a lot of charm and beauty. The 20 inches length and 35 inches width ensure that you can carry many tools with you. It is an excellent box for storage on boats, at construction sites, and within homes.
Final thoughts:
The box is completely weatherproof and boasts the world design and lock mechanism. It will add a lot of storage space to your trailer. Lund has 30 years of experience, and it is famous for manufacturing functional and high-performance products for storage in trucks.
---
5. UWS ATV-BLK Black ATV Chest with End Pull Handles and Beveled Insulated Lid
UWS's black plastic trailer toolbox Plastic is truly multifunctional. It can be used as a toolbox at the home, garage, or in the AV room. The bottom tub is made with single-piece aluminum, and the lid is designed to prevent heavy tools and equipment from dropping or leaking. The lid comes with a patented technology that makes its outer wall very rigid and virtually break-proof.
Final thoughts:
The box has been made from very thick quality aluminum. The tub is water-resistant because it is welded from one piece of metal. The lid has a Rigid Core foam-filled design that is sandwiched with aluminum plates. The lid ensures anti-bending and anti-warping qualities. The lock is excellent.
---
Buyer's guide for the best trailer tongue toolbox
When looking to buy a quality trailer toolbox, you must look for several of these features to last you the longest. Do not rush into buying without spending some time doing research and determining which will work for you. Here are some of the features you must look for:
• Material used:
A trailer tongue box has to be strong and rigid. The best material for the toolbox is Aluminum because it is strong and suitable for storing even heavier tools and equipment. Because of its tensile strength, it is not prone to dents and will not lose shape when exposed to too much sunlight. It is weatherproof, so safe from moisture as well.
Apart from aluminum, polyethylene is also preferred. Polyethylene is heavy-duty plastic and can turn out cheaper than an aluminum toolbox. Other benefits of going for a plastic toolbox are lightweight and can be manually carried everywhere.
• Affordability
Anyone looking to buy a trailer tongue toolbox must be looking at it as an investment and therefore not settle in for cheap rates. All good products come at a reasonable price. It is incumbent that you do enough research to zero in on a good box at an affordable rate.
• The right size
Before you pay for the toolbox, make sure to list all the tools you want to put into it. This will give you a fair idea about the size of the box you will need. However, the best idea is to collect all the tools to determine what capacity of the box will be best for your use.
• Added features
Extra features make a toolbox bestselling and worth every extra dollar that you will pay for it. The exterior look of the box has a strong lock and key or a dependable locking system. Check if the material you are planning to buy is suitable in the place you intend to use it. Check for the best price guarantee or money back offer if you are not satisfied with it.
Frequently Asked Questions
What are the benefits of using a trailer toolbox?
The toolbox is a great way to carry all the tools in one box to be handy at the time of emergency. People often carry loose tools that can damage the trailer or the car by rattling about and denting the vehicle. A toolbox will keep the tools safe from weather elements and also under lock from thieves. A toolbox will enable easy transportation of tools from the garage to the trailer and then back into the garage.
How do I install a trailer tongue toolbox?
Most toolboxes will come with an instruction pamphlet that explains how to install them onto the trailer or the car. Some of the toolboxes require drilling holes, while some come with predrilled holes attached to the trailer frame and tightened.
Can I use the toolbox for storing tools at home?
Yes, why not! The trailer toolbox is truly multifunctional. Apart from attaching it to your trailer, you can use it to store all the essential tools and day-to-day equipment at homes, offices, garages, schools, and hospitals.
Conclusion
A trailer tongue toolbox is great for having all your tools in one place. It fits neatly onto your trailer tongue and can also be locked for added safety. Once you begin using a good trailer tongue toolbox, you will realize what you were missing all the while. We hope you found our buying guide useful and it effectively helps you choose the toolbox that is good for you.
References: