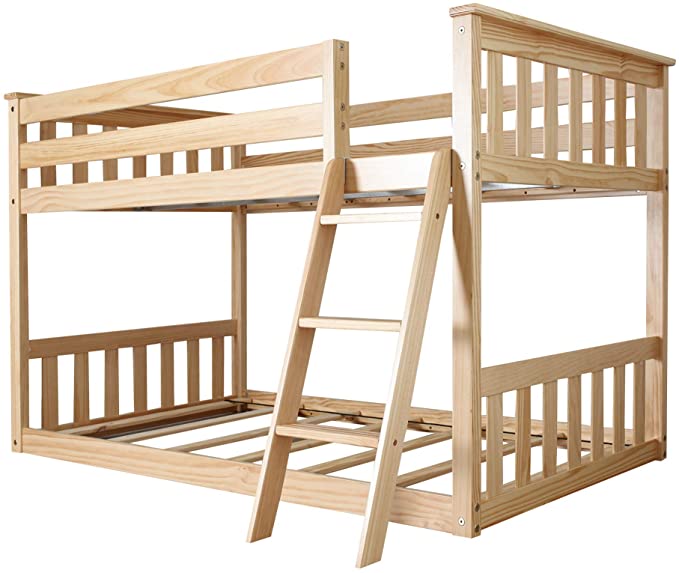 Best Amish Bunk Beds | UPDATED 2021 | Amish Made Log Beds
If you are looking for a high-quality bunk bed, several individuals will recommend going with one that is made by the Amish. These bunk beds were designed to last for generations and are great for adding space in tight spots.
The Amish are known for their simple, yet delightful designs of 100% wood. They do not cut corners, nor do they believe in using cheap products to skim by. All their pieces are naturally warm, creating an elegant look in any room in the home.
While these pieces are delightful for any home, many are not able to afford all furniture that is produced by the Amish. However, there are bunk beds that come in the Amish style that many of us know and love!
Top Five Amish Bunk Beds
1. Merax Solid Wood Bunk Bed
This Merax solid wood bunk bed features a twin over a full-size bed with a removable ladder. The bed is constructed from hardwood, providing strength and durability. The top bed will support 175 pounds while the bottom bed supports 330 pounds. There are two drawers under the bottom bed for easy storage.
As your children grow, the bunk beds can be taken apart. The twin and full bed frames are all with wood slats, which you could use with a standard mattress directly, no box spring needed. The overall dimensions of this bunk bed are 79"L x 57.8" W x 61.4" H.
---
2. MeritLine Low Bunk Beds
Constructed from wood, this Amish bunk bed features two twin beds with a ladder. It comes in white, distressed white, distressed gray, gray, light gray, solid gray, and white with a choice of either a twin over twin bed or a full over full bed.
This bed is perfect for siblings that share a room, with a house-shaped top bunk. The bed would also be great for children that have sleepovers often. The overall dimensions are 77.8″L x 41″W x 83.1″H.
---
3. Harper & Bright Designed Wood Bunk Bed
If you need extra sleeping space for sleepovers or company, this is the bed to get. Not only does it feature twin over twin bunks, but there is also a trundle bed and drawers! The bed is constructed from solid pine and MDF board.
If desired, the bed can be split into two twin beds. With a classic arched design, the bed features a sturdy ladder and removable casters. The overall dimensions of the bunk bed are 80.5″L X 41.5″W X 73″H.
---
4. Max & Lily Low Bunk Bed
This Amish style bunk bed from Max & Lily measures 58″ W x 50″ H x 80″ L and supports up to 400 pounds on each bed. The twin over twin bed does not require box springs or bunkie board.
One of the best things about the Max & Lily brand is that add-ons are available to perfectly fit any needs! Add extra, optional guard rails to the bottom bunk for more sleeping security. Create a fun bed with a removable slide or matching play curtain.
---
5. Harper & Bright Designs Wooden Low Bunk Bed
Available for those families who have low ceilings, this gray bunk bed with a trundle. Equipped with a staircase, there is easy access to the top bunk. The bunk beds provide hidden storage shelves with the entire unit constructed from solid pine wood and manufactured wood. As this is a low bunk bed, it is perfect for toddlers that are just starting to sleep in a bigger bed.
The top bunk measures 42.3″ x 76″ Rail: 12.6″ while the lower bunk measures 42.3″ x 76″. The trundle bed measures 39.1″ x 75.5″. The top bunk will hold up to 150 pounds, the lower bunk: up to 200 pounds, and the trundle bed up to 175 pounds.
---
Buying Guide
Before jumping into purchasing an Amish bunk bed, there are various things that you will want to think about. Our buying guide can assist you in making the right decision for your home.
Factors to Consider
Steps or ladders
Many Amish bunk beds will contain one or the other. Ladders are the most common, but steps may prove to be better for younger children or children with disabilities. And, the great thing with steps is that often the steps will double as drawers!
Some bunk beds even offer slides as a means to get down from the top bunk! For those that have ladders, many manufacturers have made bunks that have a removable ladder that is also reversible.
Storage
There are Amish bunk beds that contain cubbies or shelves, while others just have two beds. You will need to decide if you want the storage, and then make sure that you have enough room to have the storage.
Wood Finish
Many Amish bunk beds offer many different wood and stains. Pinewood is a popular choice as it is very durable and can be painted. In some cases, stains are not offered but paint colors are. Popular choices for this include white, gray, and black.
Size
You will need to decide what size of bunk bed you will need. Some bunk beds have a full bed on both the top and bottom, while others have a full bed on the bottom and a twin on top. We have even seen bunk beds that offer a queen-sized bed!
Then there are beds that have trundles as well for extra sleeping room. Some will use these for sleeping, while others will get creative to use them for shoe holders or some other storage.
And really, when thinking of bunk beds, the sky's the limit! You can get bunk beds that are a corner design that house three beds or you can purchase quadruple bunk beds! We have even seen triple bunk beds that have all three stacked on top of each other. If you can think it, it can probably be done if it has not been already.
Style
There are many styles of Amish bunk beds, including Mission, French Country, Rustic Log, Country, and Colonial, as well as staggered models featuring a full bed beneath and a twin bed on top.
Space
You will also want to look at the space where you intend to put the bunk bed. Measure your room, taking note of any doors, closets, and windows. Be sure to note how tall the room is as well. The best places to put a bunk bed are along a wall that is bare. It is not recommended to put it in front of a window.
FAQs
Is Amish furniture really made by the Amish?
Amish furniture is furniture that is made from wood that is made by the Amish. Typically, there is not any laminate or particle board used.
But there is furniture that is labeled as Amish when in reality these are Amish styles of bunk beds. In this case, the Amish are not the ones that are making these beds.
Is it true Amish bunk beds do not have screws?
Yes, many Amish carpenters do not use screws for bunk beds or any of their other furniture. They utilize wood glue in the proper spots that are often more durable than nails or screws. However, there are some carpenters that will use screws or nails if they are necessary.
Amish style bunk beds will often have screws. However, some brands will use hardware that matches the wood of the bunk beds.
How should you take care of an Amish bunk bed?
From time to time, you should use a soft cloth with a mild soap. As soon as you wipe it down with the mild soap, wipe it off with a dry soft cloth, then buff the wood grain lightly. You can use wood polish on occasion, but be sure it is silicone-free. You will also want to look at the instructions that were included with the bed or contact the manufacturer to make sure that any cleaner you use on the bed is safe.