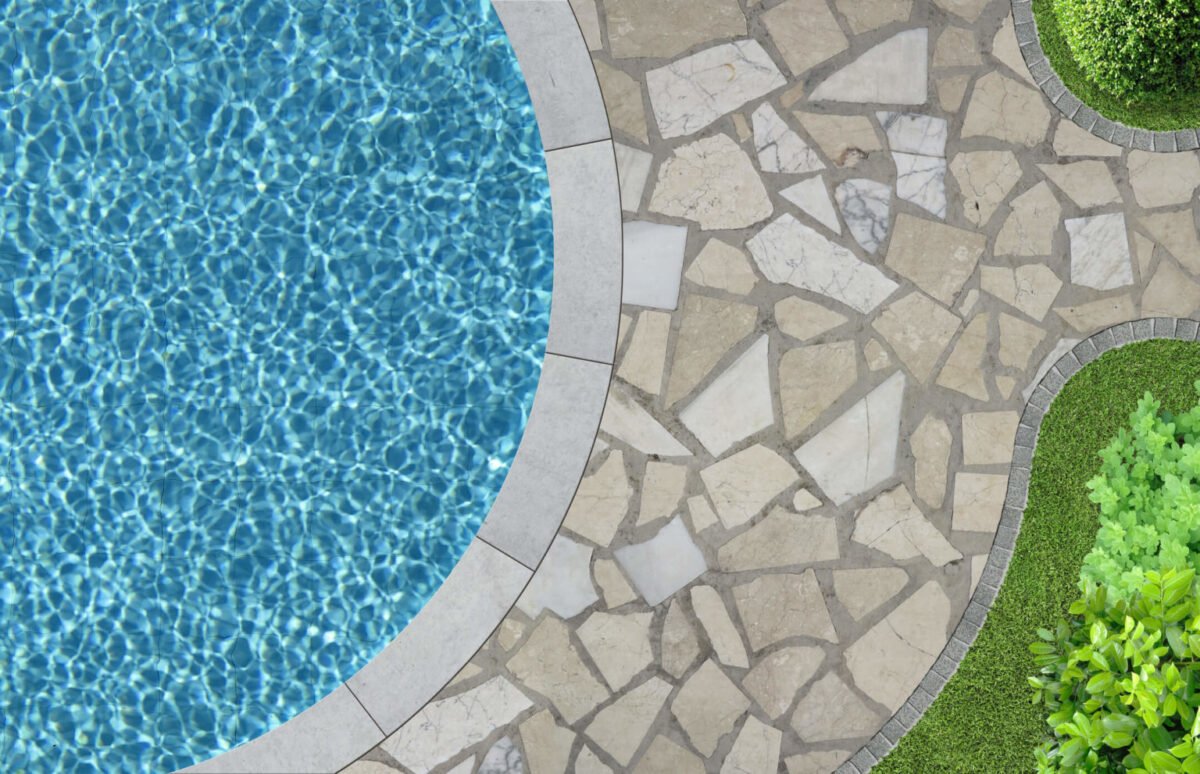 Best Flagstone Sealers | UPDATED 2021 | Sealer For Flagstone Walkway
A flagstone is very porous. These pores can allow large amounts of moisture to get absorbed or settled in these pores. That is why a sealer is essential for a flagstone. While some sealers work very well, other sealers fail at doing anything. This makes it important to find the right flagstone sealer. There are two types of sealers that are most commonly used for flagstones: acrylic sealers and water-repellent silane-siloxane sealers.
The job of a sealer is to keep them protected from any liquids. But how do they do that? A water-repellent silane-siloxane sealer seeps into the pores and the layer of the flagstone. Here a chemical reaction takes place to build a hydrophobic barrier on the surface and inside the flagstone's pores. After applying a sealer, any liquid or water will easily bead off. The pores will not allow any moisture to stay. This prevents the deterioration that is caused by liquids and moisture and prevents staining. A sealed flagstone is also resistant to salt-damage, mold, mildew, cracking, pitting, spalling, freeze-thaw, and efflorescence.
The market provides a wide range of sealers. This guide will provide you with the right information, answer your questions and suggest you the top 5 flagstone sealers. Our goal here is to provide you with every piece of information at one stop. One thing to keep in mind is that even the best of the sealers has limitations. The sealer will work well only on the surfaces that it can react well with. So, find the sealer that fits your requirements so it can provide a good degree of protection to your stone. Not every kind of stone is compatible with all kinds of sealers. Some stones like limestone, marble, and travertine are acid sensitive. So, if you use a cleaning product or a sealer with acid, that can go wrong.
For a flagstone, you'll be looking for a sealer that covers the surface and fills the pores to keep moisture away and repel liquid. Some sealers have a glossy property, which gives a glossy finish to the stone. So, if you want a natural look to your flagstone, you will want to avoid a glossy sealer. If you want to maintain your stone's natural appearance, use a sealer that gives a matte finish. Any liquid, oil, or water will bead up on the surface of the stone. To maintain the color and longevity of the stone, you can reapply the sealer.
Before jumping on to the buying guide, let us first look at our top 5 picks.
Top 5 picks for Best Flagstone Sealers
1. Black Diamond Stoneworks | Best Sealer For Flagstone Walkway
The black diamond stone stealer comes with a very interesting property. It is suitable for stamped, colored, exposed, and aggregate surfaces. It gives the stone a "wet" look. It is different from glossy. It makes the stone look more detailed because the wet look enhances the stone's color. It can be brushed, sprayed, or rolled on slates, driveways, concrete, floors, masonry, patios, pavers, brick wall, etc. It does make the stone look wet but will not darken the color after it dries. This sealer is water-based and very easy to maintain. The liquid looks milky when in the container. It gets transparent as it dries.
The liquid also has a tinge of purple to it. You can apply the sealer using a brush. You can decide the number of coats depending on the stone. Follow the guidelines properly for the best results. Don't apply the sealer under direct sunlight. After applying the coat, the temperature should be around 50-to-80-degree Fahrenheit for the next 24 hours. The tiles or stones should also not come in contact with rain for the next 24 hours either. You can see the effect of the liquid after a couple of coats. It will start to get a wet appearance as the purple tinge leaves, and the liquid becomes clear.
---
2. Miracle Sealants | Miracle 511 Seal And Enhance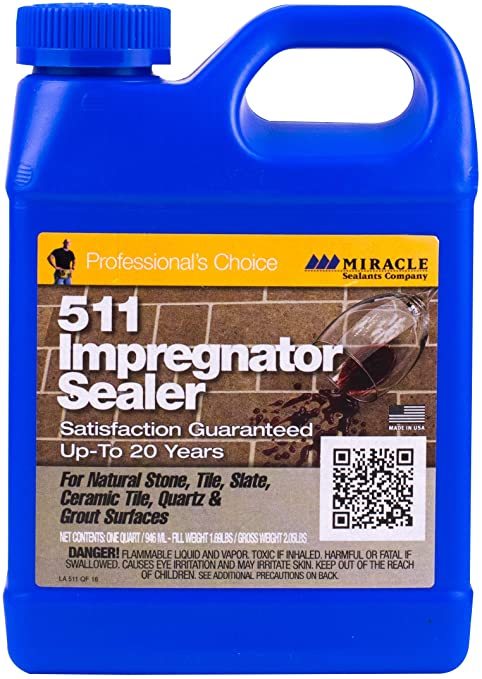 This sealer can work great with most natural stones and grouts like flagstone, limestone, terra cotta, sanded grout, etc. It is one of the best sealers for porous stones and protects the stone against moisture, slippage, and stains. The formula of this sealer creates an invisible barrier to protect against oil or water. With a quart of this sealer, you can cover up to 1,000 square feet.
The sealer's layer avoids any contaminants to affect the stone and protects it from harmful UV rays. The application is very easy. The sealer doesn't change into yellow and maintains the natural look of the stone. It gives a matte finish after application.
This stone sealer is formulated especially for high porous stones like flagstone. It penetrates deep into the stone's pores, creates strong bonds, creates a barrier against water, and provides stain protection. The water vapor or moisture inside the surface escapes, which is why the sealer is suitable for both interior and exterior surfaces. The sealer dries out to become invisible. The sealer works perfectly for dark colored stones.
---
3. Granite Gold Sealer Spray
This stone sealer protects the surface from stains caused by coffee, water, oil, wine, or other liquids. It protects the surface from contaminants and etches. It also doesn't allow soil build-up. Although this is suitable for any natural stone, this works best on granite. It is a spray formula, and that is how this seal is applied. This makes the seal's application very easy it has a long-lasting effect on any highly porous surface. It can also be used for grout.
The way to apply this seal is to spray on the surface on a 3-foot section. Wipe off the seal immediately after spraying. Wait for 20 minutes and repeat the step. You can repeat the step 2-3 times for maximum protection. Wait for 20 minutes between each coat. The seal is non-acidic, non-toxic, and does not contain ammonia and phosphate. This makes it safe to use on surfaces for food purposes. The seal is completely bio-degradable, which adds to the benefits and makes it even more suitable for surfaces where food will be handled. The seal is also pH balanced.
---
4. Endura Seal Semi-Wet Sealer | Flagstone Sealer For Wet Look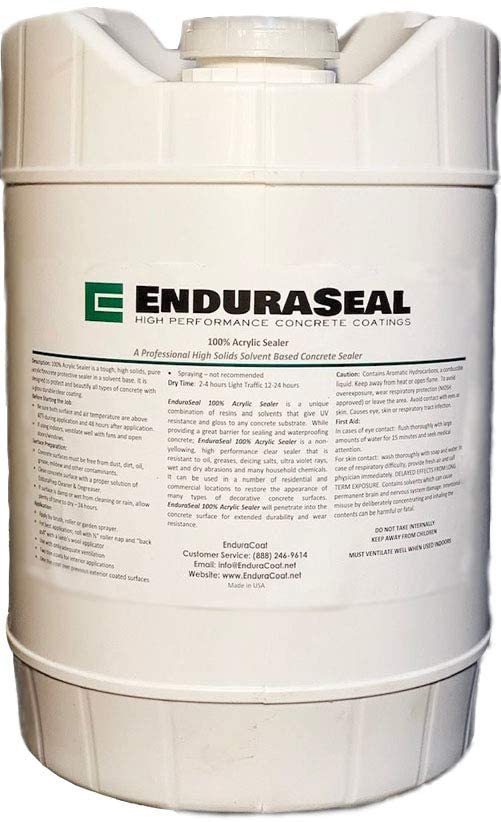 The Endura Seal is a high-performance stone sealer made from 100 percent acrylic. It has a very low odor. It gives the stone a semi-gloss or a wet look. It doesn't give the stone an overly glossy look. This sealer works better and is more durable than epoxy and urethane sealers. It is affordable. The formula of the sealer avoids yellowing on applications. It doesn't get yellow over time either. It has very low odor as compared to many of the sealers present in the market.
It is suitable for all kinds of natural stones. It also works well on stained surfaces. It is recommended to apply two thin coats of this sealer. For the best results, make sure to read the instructions carefully. 1 gallon of this sealer can cover up to 300 square feet.
---
5. Miracle Sealants Plus Sealer
Miracle Sealants plus works perfectly for flagstone. Its formula is curated with smaller size molecules that can easily penetrate the highly porous surface. Hence it works well with all the natural stones and grout too. It creates a strong bond inside the pores and forms a barrier against moisture. The moisture and liquid are locked out. It also prevents stains and damage. It is effective in increasing the durability of the stone. The stone seal dries off to be invisible and does not affect the natural look of the stone.
The seal does not get yellow at any stage. The seal cannot be noticed after it is applied and dried. Its special formula for porous surfaces makes sure that any liquid does not affect the stone. This seal can also be used for both exterior and interior purposes. The liquid beads up on the surface and does not get absorbed.
---
Buying Guide
While buying a flagstone sealer, these are the important things you should consider:
A good quality sealer's molecular structure is small. This allows it to seep deeper into the pores of the stone. The chemical reaction then forms stronger bonds. And the stronger the bond is, the more effective the sealer will be.
Besides this, a good sealer will show no reaction to chemicals used in cleaning products. It will also not react to contaminants that it may be exposed to. If the sealer reacts to these, then it will start breaking down sooner. If it breakdowns sooner, you will have to reapply the sealer more frequently, and hence you'll end up investing too much in a bad product.
A good stone sealer will prevent the stone from getting stained by stain-producing materials and make it easier to clean grime, food, dirt, and other contaminants.
You can use a high-quality stone sealer to seal the stone and the grout. It doesn't work the other way because the molecular structure of grout sealers is much bigger than what is required for stone sealers. So, if you buy a good stone sealer, you can use it for both grout and stone.
---
FAQs
Why should I seal flagstone?
Flagstone is a porous stone and is considered natural. Since it has pores, it can easily absorb moisture and is prone to scratches, cracks, chips, and other damage. This is why sealing flagstone becomes crucial. Using a seal, you can preserve the beauty of the stones, avoid damage, and maintain durability.
A sealer fills up the spaces and the pores in the stone. This increases the strength and protects the stone from moisture, water, and any liquid. For a natural stone like this, an acrylic sealer is the best type. It maintains the natural beauty of the stone by giving a matte finish.
Is it important to seal natural stones?
All-natural stones have pores. The porous nature allows absorption of liquid, bacteria, food, contaminants, etc. Hence, it sustains the damage caused by those factors that affect its physical appearance and decrease the stones' durability. And that's why to prevent any damage and sustain its durability; it is important to seal every natural stone. The stones should even be resealed, but how often they should be resealed depends on what type of seal you're using.
Flagstone and limestone are more porous natural stones than others, which is why it is important to seal them more often to prevent bacterial growth, scratching, staining, and etching. Other stones like quartz and granite that are denser don't have to be sealed regularly because they have much fewer pores.
How to identify the best sealer for a natural stone?
For every kind of stone, there will be a different perfect sealer. In the case of most natural stones, an impregnating sealer is the best kind. An impregnating sealer easily and efficiently penetrates the stone to fill every pore with the sealer molecules. These molecules then form strong bonds with the pores to repel liquid or moisture. Some sealers can also help prevent efflorescence, spalling and provide protection from harmful UV rays.
What are the sealers made of?
To summarize, there are majorly three kinds of stone sealers. All three varieties have different formulas and ingredients. Penetrating sealers have siloxanes, silicones, and fluoro-polymers. Topical sealers' main ingredient is usually polyurethane, natural wax, and acrylic. Impregnating sealers have silanes or their modified forms in their ingredients.
Should I seal stacked stones?
Just like any other natural stone, even stacked stone should be sealed. This stone is very porous and is used to give an effect of stacked stones. Since the stone has many pores, it easily allows moisture to seep in and is also prone to cracking, chipping, and other forms of damage.
A good quality sealer makes the stone strong and increases its durability. A good sealer also shows little to no reaction towards contaminants, which maintains the stone's appearance.
Impregnating sealers are a penetrating sealer. It is highly recommended for porous stones like flagstone, limestone, and stacked stone. It completely penetrated through the pores. The material forms strong bonds and creates a barrier against moisture and water.