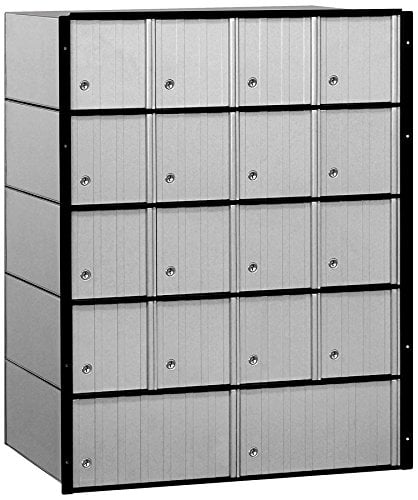 Top 10 Best Cluster Mailboxes
Cluster mailboxes are a unique type of mail delivery arrangement where many residences are provided with delivery and collection services of a letter carrier through a centrally located installation. It can be for both a multi-family structure or a single-family subdivision.
Cluster mailboxes also provide a great deal of convenience for business customers because they can get a delivery facility from one centralized location. There are many kinds of clustered mailboxes such as pedestal-mounted cluster box units (CBU) and free-standing ones. There are also the ones that can be installed on a wall, shelter or kiosk.
Since a centralized mail delivery system like cluster mailboxes is more convenient and less expensive, it is the preferred method by the U.S postal services for all new projects. The United States Postal Service plans to survey and improve its services and make them as cost-effective and efficient as possible. Therefore, there is a need for establishing CBU in a number of communities.
Now, since cluster mailboxes have seen a rise in popularity, the models and variations that they come in are also increasing. There are many different types of cluster mailboxes that you can choose from, and the sheer number of options can be a little confusing for you. To make things simpler, we have included a comprehensive buying guide and reviewed the top 10 cluster mailboxes available in the market today. Read on at the list below to find out everything that you need to know.
Top 10 Best Cluster Mailboxes Reviews
Are you searching for a secure mailbox box that can keep your mail protected and safe from being stolen? If yes, then this is the list where you get to find out how safe and convenient cluster mailboxes can be.
Everyone is aware of the importance of having a mailbox no matter where you happen to live. With the right cluster mailbox, you can ensure that all your outgoing and incoming mail is safe from prying hands and weather damage. Let's look at the top 10 cluster mailboxes available in the market that you can purchase right now.
1. Salsbury Industries 3505ASU Vertical Mailbox with 5 Doors and USPS Access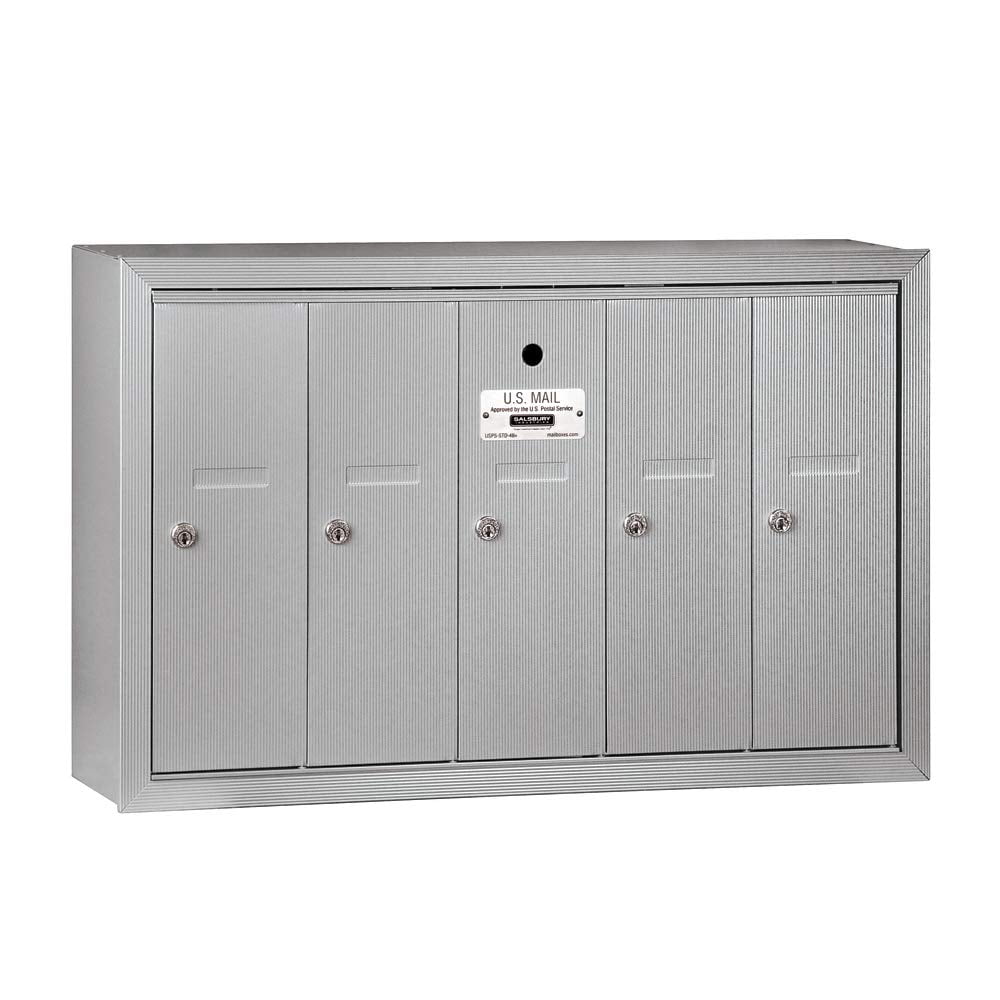 The very first unit on our list is the Salsbury Industries 3505ASU Surface Mounted Vertical Mailbox. This unit is well known and well-liked for the security it provides. The unit is available in 5 colors; aluminum, brass, sandstone, green, and bronze. It weighs 10.08 pounds and measures 7.5 x 29.8 x 19 inches. Each door has a lock and two keys and the unit comes with 5 compartments. A good thing about this unit is that it is USPS approved.
The unit has been constructed using aluminum which is one of the best-suited materials that can be used for the construction of cluster mailboxes. The build of this unit guarantees safety and durability. Overall, it is super easy to install and use and most customers of this unit have been satisfied with it giving it positive reviews.
---
2. Salsbury Industries 3308BLK-U 8 A Size Doors, Black Type I Cluster Box Unit Mailbox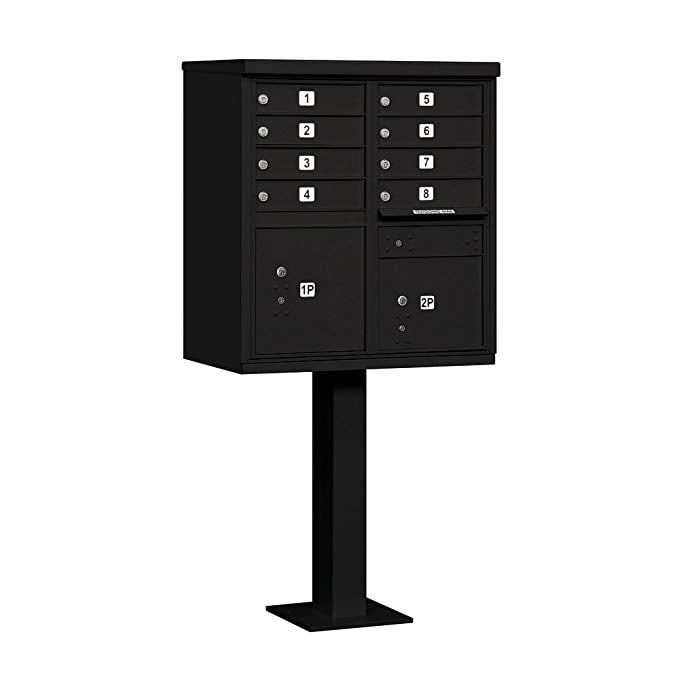 Next up on our list of the best cluster mailboxes is the Salsbury Industries 3308BLK-U Cluster Box Unit Mailbox and this is a great choice for anyone who happens to be looking for a more modern looking cluster mailbox. It comes with a total of 8 compartments that are very secure and easy to use. For added convenience, it also features 2 package compartments that can be used for sending and receiving large sized parcels that are too big to fit into the regular compartments. The unit features a durable powder-coated finish and is available in aluminum, brass, sandstone, green and bronze colors. It weighs 145 pounds and measures 18 x 30.5 x 62 inches.
Each compartment has been numbered so the tenants don't get confused on which compartment belongs to them. Every door comes with a heavy-duty five pin cylinder cam lock with three keys and a dust and rain shield. The strong and durable build of the mailbox is sure to withstand impact, vandalism, and harsh weather conditions. Furthermore, it also features a carrier access door for USPS installed master lock.
---
3. Salsbury Industries 3312SAN-U Pedestal, 12 A Size Doors Sandstone and USPS Access Type II Cluster Box Unit Mailbox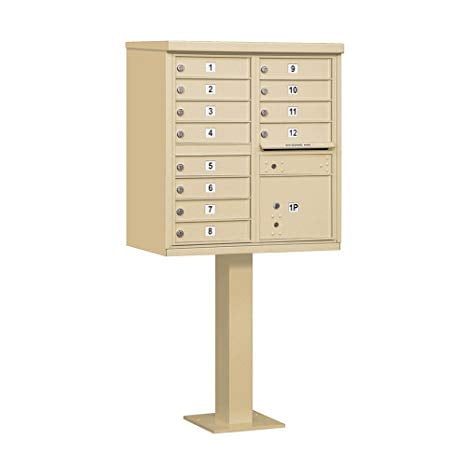 This is the right cluster mailbox for large companies or buildings that happen to be looking for a unit that can accommodate a larger number of departments or tenants. The Salsbury Industries 3312SAN-U Mailbox features 12 mail compartments and one parcel compartment that can accommodate large-sized parcels. The unit weighs 145 pounds and measures 18 x 30.5 x 62 inches. Like the other units mentioned in this list, this one too offers maximum security, therefore you need not worry about theft or vandalism.
The unit has been made using high grade, industrial aircraft-quality aluminum. Tampering is not possible since there are no removable fasteners on the outside of the unit. High precision robotic welding has been used as the method for the construction of the cabinets and compartments, which further improves the durability and the security of the unit. In order to protect the individual slots from rainwater, the unit features a water drip-edge in the front and sloped roof for water runoff.
---
4. Salsbury Industries 2030FL Mailbox with 30 Doors, Front Loading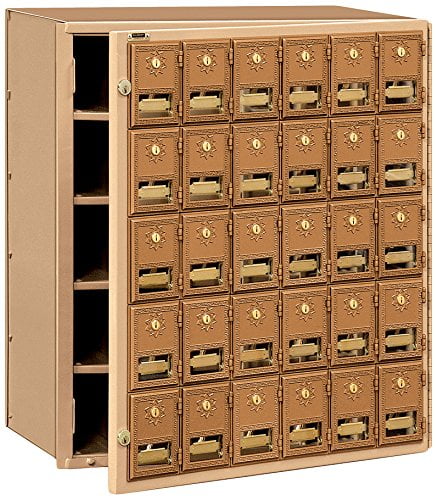 Now let's look at something much bigger in size and volume. The Salsbury Industries 2030FL Mailbox comes with 30 mail compartments with a very unique look. The best features of this unit are perhaps the size and its super attractive design. The design alone sets it apart from your ordinary cluster mailbox and you are bound to fall in love with it as soon as you set your eyes on it.
The unit weighs 115 pounds and measures 16 x 23.5 x 26.5 inches. The compartments of this unit are made using 20-gauge steel and feature a powder-coated brass tan finish. Overall, this is a great unit that you should consider buying if you are looking for a cluster mailbox with a much larger capacity.
---
5. Salsbury Industries 3413S-05BLK 4C Pedestal Mailbox in Black

The Salsbury Industries 3413S-05BLK 4C Pedestal Mailbox is the right choice for you if you are looking for something simpler and more minimal. This basic cluster mailbox features 5 individual compartments and one compartment for larger sized parcels. It is a simple vertical designed cluster mailbox that does not take up much space. The matte finish of the unit gives it a very classy look.
The unit weighs 210 pounds and measures 19 x 17.5 x 63.2 inches. The 4C Pedestal Mailboxes feature a matching enclosure, USPS approved 4C horizontal mailbox unit and pedestal and master commercial locks for private access. The unit has been constructed using aluminum for high quality, superior strength and exceptional durability for both outdoor and indoor installations.
---
6. Salsbury Standard Mailbox with 9 Doors
The Salsbury Standard Mailbox is a very basic looking cluster mailbox featuring 9 doors in a vertical row. It also has one compartment for large-sized parcels at the end. The unit weighs only 72 pounds and measures 17 x 16.4 x 56.8 inches. This aluminum constructed mailbox from Salsbury is another great addition from their collection of USPS approved security mailboxes. The model has been constructed with high-quality materials that make it secure, durable and weather resistant. You can either install it indoors or outdoors. Since the unit has more of a vertical design, it does not consume much area and can be placed in tight spaces.
---
7. Salsbury Industries 3716D-20AFU 4C Horizontal Mailbox with USPS Access and Front Loading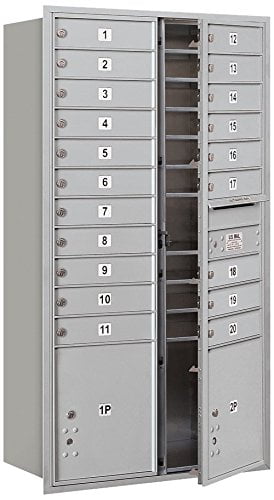 The Salsbury Industries 3716D-20AFU is another large-sized unit that can accommodate mail compartments for up to 20 tenants. Like the other units in this list, this one too features a dedicated storage area for parcels. However, since this unit is larger in size, it features 2 parcel compartments instead of just one. The unit has been constructed using stainless steel and heavy-duty aluminum with a rugged, scratch and weather-resistant powder coat finish.
The unit weighs 187 pounds and measures 17 x 31.1 x 56.8 inches. The high-quality build of this unit allows it to withstand any weather condition and last for years. An outgoing mail compartment with slot, protective hood and anti-fish comb for security is present just above USPS access door for easy outgoing mail collection. Each of the compartment has been numbered for convenience and overall it is a great choice if you are looking for something that can accommodate mail for a large number of users.
---
8. Salsbury Industries 2218 Aluminum 18 Doors cluster Mailbox, Standard System, Aluminum with Black Trim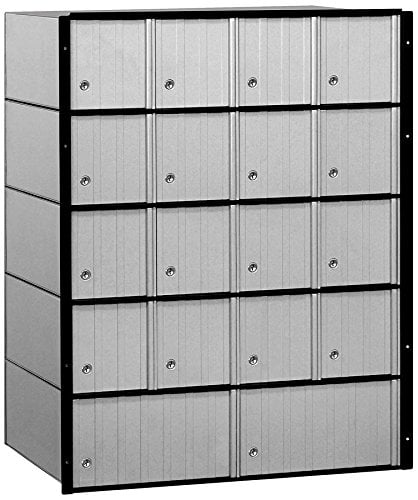 The Salsbury Industries 2218 Aluminum Mailbox is a good choice for you if you are looking for a cluster mailbox that will keep your mail safe from fishing hands and harsh weather conditions. This unit comes with 18 strong built and secure compartments. It also features two parcel compartments at the end which are wide enough to accommodate large-sized parcels that can't fit into the individual ones provided.
In order to ensure durability and quality, the unit has been constructed using aluminum. Each door features a powder-coated aluminum finish. It weighs 83 pounds and measures 15.5 x 23.5 x 30 inches. Each compartment has been numbered for easy door identification. The unit also comes with a 3-year warranty.
---
9. Salsbury Industries 3504ZRU Recessed Mounted Vertical Mailbox with USPS Access and 4 Doors, Bronze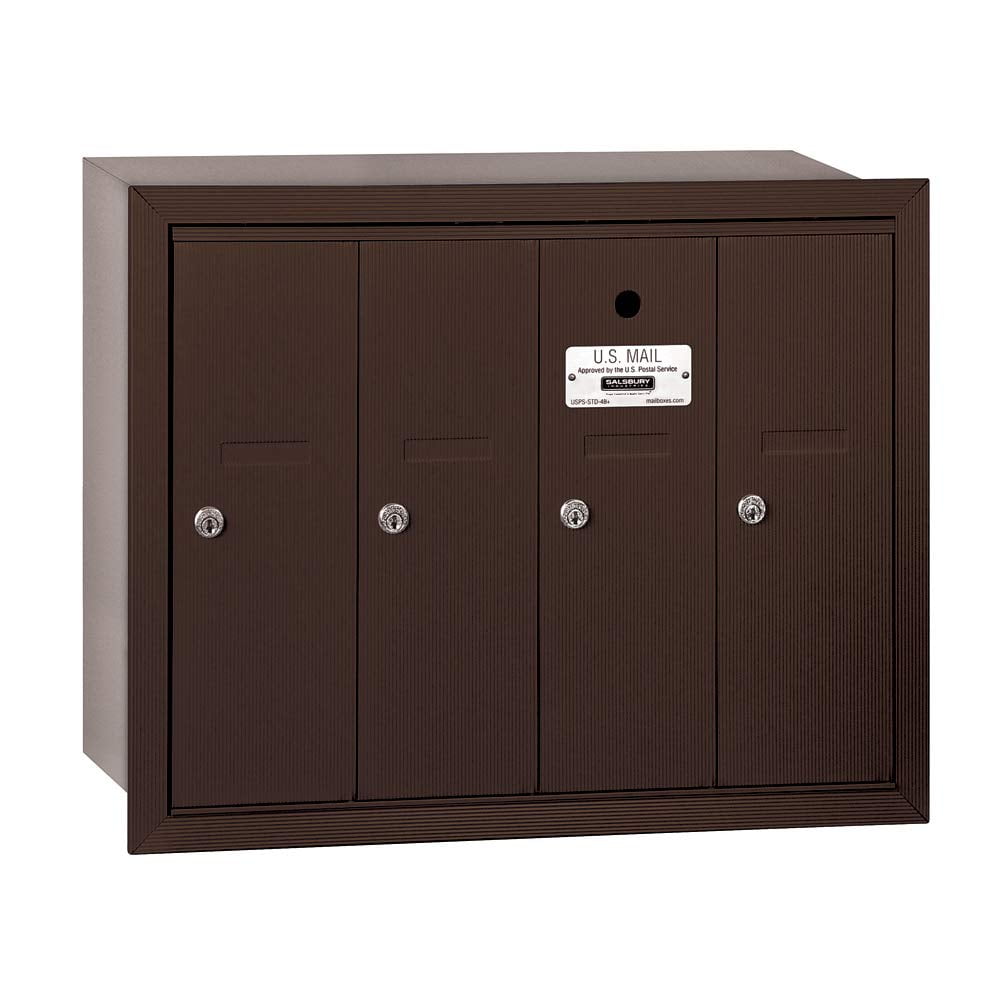 The Salsbury Industries 3504ZRU is a cluster mailbox that has more of a basic and simple look to it. This unit is a good choice for you if you are not looking to accommodate a large number of users. This model features a total of 4 doors. Each of which comes with an individual lock. This unit has more of a horizontal design and every compartment is big enough to accommodate your mail and a parcel as well hence there is no need for a separate dedicated compartment for parcels. Every door of the unit features a 5-pin cylinder cam lock.
The unit weighs only 35.4 pound and measures 15.5 x 23.5 x 12.1 inches. It also comes with a 3-year warranty. The unit is USPS approved and is worth considering if you are searching for a more minimal model for your needs.
---
10. The Salsbury Industries 3707D-12ZFP 4C Horizontal Mailbox in Bronze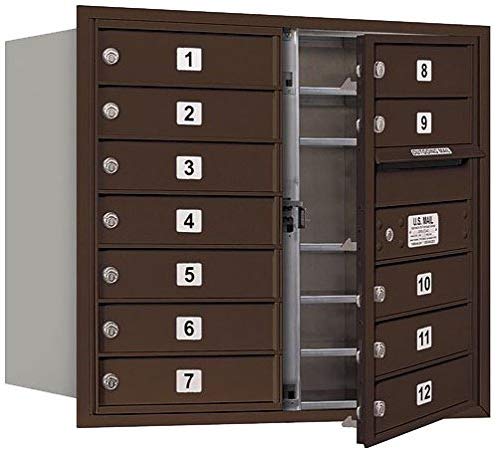 Last but definitely not the least, the Salsbury Industries 3707D-12ZFP is another great choice among cluster mailboxes. The unit features 12 secure compartments and can be installed both indoors and outdoors. Each compartment has been numbered so that users don't get confused about which compartment belongs to them.
The unit has been constructed with aluminum and has a bronze finish to it. The body it comes with is durable and sturdy enough to withstand severe weather conditions. And finally, it comes with a 5-year warranty.
Cluster mailbox buying guide
There are several things that you should consider before you head out to purchase a cluster mailbox. Factors such as the number of compartments and the ease of installation count. However, another thing you should look into before you make your choice is the type of cluster mailbox that you are looking for. There are different styles available when it comes to them. Each one has its own distinctive features, look, and specifications. The below mentioned are the different types of cluster mailboxes you can choose from:
1. Safety First
Safety is the main concern, regardless of what sort of building you manage. In order to have peace of mind, it is important that you choose the right type of cluster mailbox.
There are around 200 government mail crimes every year, and offenders break a large number of cluster mailboxes in doing so. A postal investigation is the last thing you might want to deal with if you aren't careful enough. This can be taken care of by securing the mail of your tenants. Though it might cost you a little more to get a cluster mailbox unit with strong enough locks and build, it is also important to remember that they come with far better safety.
The weather of the area where the cluster mailbox is located is another safety concern. It should be kept in mind not to place the mailbox at a long walking distance so the tenants need not have to take a longer walk than they should just to get their mail in stormy or cold weather. In order to solve this problem, instead of purchasing a big sized cluster mailbox, you can think about purchasing different smaller cluster mailboxes and putting them in different locations around the building to shorten the walking distance of your tenants.
2. Know the Standards
Another thing that you should take into consideration is the USPS cluster mailbox regulations. There are a few suggestions provided by USPS that advice you where to get your mailboxes from.
The guidelines provided clarify how you can get a permit for your letterbox with USPS. All mailboxes are examined by mail carriers and citizens during the yearly Mailbox Improvement Week. On the off chance that there is an issue, somebody might report you to USPS.
You will usually be able to find cluster mailboxes in sets of eight, twelve, thirteen or sixteen boxes. Also, luckily, all the approved mailboxes are listed by the USPS in its postal bulletin. One significant standard that should be known by everyone is that USPS necessitates that keys are given to your tenants.
3. Parcel Lockers
Parcel lockers are used by people to receive packages. Though it is possible to fit a few small packages in some cluster boxes, however, the availability of lockers is still necessary for the larger parcels. You might have to buy more lockers depending on the number of cluster boxes you get. For instance, for every 10 cluster boxes, you should have at least 1 parcel box.
A temporary code or key is used by the tenants to retrieve their parcels. The starting price of a four-door parcel locker is around $800. However, it might cost you even more if you are looking for something with far better security.
Types and Styles of Cluster Mailboxes
There are several different styles in which cluster mailboxes come. A few of them are mentioned below. Your choice should depend on your taste and whether you are looking for something basic or a little more modern looking. You can find out more about the different types of cluster mailboxes available to choose from the list below:
1. Standard Style Units
How about we start with the most common and basic of cluster mailboxes, intended to address the issues of a wide cross-section for users without decreasing the centrality and security that accompanies a good quality CBU.
Standard style cluster mailboxes conform to USPS guidelines and are postal certified, hence there is no compelling reason to stress over a carrier declining to deliver mail in light of the fact that the unit doesn't meet Postal Service specifications. These mailboxes are usually made using durable materials: tempered steel and hard-core aluminum. These materials are climate-safe, erosion safe, and rustproof, meaning you won't need to worry about switching or getting a new one since these ones are bound to last.
The F-Series that the standard style units are a part of, has ensured safety and security for cluster mailboxes. The good thing is that USPS security standards are met by these cluster mailboxes.
Though their main focus is on the build, these units still put the "style" in "standard style". You will usually find these in the color sandstone, however, there are other color options as well such as dull bronze, white, forest green, and white.
Standard style cluster mailboxes come furnished with everything that is needed by a property manager to make them fully operational. This includes a platform to hoist the unit to an elevated height, a set of tenant locks along with three keys for every lock and self-adhesive aluminum number plates for door identification.
The best thing about standard style CBUs is that they are so easy to use for both residents and mail carriers. It is essentially convenient for mail carriers to stack the units from the front, whereas the residents find the availability of outgoing mail compartments and a parcel locker very helpful.
Different units come with a different number of parcel lockers and the number of tenant doors. These units can accommodate as little as four and as many as sixteen tenants.
2. Decorative Style Units
Other than their usefulness, one of the advantages of cluster mailboxes is that they complement the property developments, regardless of whether these are condo structures, multi-unit buildings or townhomes. The decorative style units come with several aesthetic features such as column pedestals, glossy finishes, crown molding, and pillars. All of these further enhance the looks and add more features to a standard style cluster mailbox.
Cluster mailboxes typically come in two decorative styles:
One of these two has a classic decorative look. Every unit in this classification accompanies a pillar base and a crown molding that gives these mailboxes a classy look. Also, these mailboxes have almost all of the features of a standard style cluster mailbox.
The second one is a traditional decorative style cluster mailbox and it has more of a vintage look to it. Just like the decorative cluster mailboxes with a classic look, these too have all the features of a standard style cluster mailbox and come in the same color range as well.
The other one is the more decorative Stucco Column Enclosure Style Unit. In case you're searching for a CBU with an additional layer of security, and a maximal decorative look then the best option for you is the decorative stucco column enclosure style CBU.
These units do not require pedestals because these are columns from top to bottom. The pre-assembled columns are much more secure and stronger as compared to the cinder block and steel stud column mailboxes we used to have in older times and a lot more secure than the steel stud and ash square letter box segments of the past.
These types of cluster mailboxes are available in the same color as all other ones on the market. However, among these particular types of cluster mailboxes, the most common colors are slate grey, sandstone, burnt Tuscan and unpainted.
Cluster Box Unit Accessories
Regardless of how complete these CBUs are, it's always a good idea to have replacement parts available. Accessories that are available as replacement parts include security-related parts, aesthetic parts, and functional parts.
In case you're most worried about your needs in the domain of large packages, there are independent package storage lockers accessible in units of two and four. These can be used for both outdoor and indoor placements and come with a safe two-key system for package retrieval and a mail carrier access master lock.
FAQs section
Though the working and installation of these units is no rocket science, people still have a few questions in mind, especially if they are not familiar with these types of units. A few of the most basic questions regarding the use and installation are addressed below.
1. How do cluster mailboxes work?
The postal carrier usually has the master key to cluster mailboxes. The master key can be used to open all the boxes or open them all at the same time by popping open the complete back or the front of the cluster box.
Every person who owns a mailbox in the cluster mailbox will be provided an individual key which they can use to retrieve their mail at any time.
2. Are these units safe and secure?
There nothing to worry about this new method of mail retrieval that you might be seeing everywhere in the neighborhood. These mailboxes are very secure. If you want to switch to cluster a mailbox, but are concerned about the safety, then don't be. Your mail is going to be just as secure in the cluster mailbox as it will be in the individual mailbox on your front porch.
As a matter of fact, a lot of people think that as compared to traditional residential mailboxes, using a cluster mailbox unit can be a much safer option. This is because your typical pedestal type residential mailbox does not come with any kind of security lock and hence it is easier to get your mail stolen. On the other hand, cluster mailboxes are a much more secure option since each individual box comes with a lock.
Overall, cluster mailboxes are a far better option when it comes to securing your mail from identity theft.
3. Can you send out mail and receive packages as well?
So, receiving your mail appears to be simple enough… yet shouldn't something be said about bigger packages? Moreover, how are you expected to send letters out? You'll probably be satisfied to know that it is just as snappy and effortless! Most of the cluster mailboxes come with a compartment with outgoing mail and another compartment for large-sized parcels that cannot fit into the smaller individual compartments.
4. How do you receive a package that is larger in size?
With cluster mailboxes, you'll have the option to receive bigger packages, which won't always fit into your usual residential ones. The letter compartments of a cluster mailbox are big enough to hold most parcels.
On the off chance that you get a package that that is too big in size to fit your individual letterbox, the postman will leave a key for the package compartment in your individual letterbox that you can use to open and get the package from the parcel box.
Once you get your package from the parcel compartment, you can just put the key in the compartment for the postman. The compartment locks on its own once you shut its door.
In different cases, after you use the key to open the parcel compartment, you won't have the option to take the key with you and it will remain in the lock hole, which can later be retrieved by your postman.
5. How do you send outgoing mail?
It is as simple to send your stuff as easy it is to receive your mail and parcels. The cluster mailbox has a specific compartment for mail that needs to be sent.
A few cluster mailboxes have extra space for outgoing mail in your very own individual locker as well.
Also, you can also send mail from your own workplace, by dropping it in any public mail receptacle or via your nearby post office.
6. Are these units weather resistant?
It is recommended to clear the mailbox from any ice and snow in severe weather by the USPS. One good thing about cluster mailboxes is that you have the equal duty of keeping it clear in the winter.
While you can utilize a bag of salt or a shovel to make a way to your mailbox, a lot of cluster mailbox users say that they never need to deal with this errand, as the region is typically effectively cleared by the pedestrian activity or another cluster mailbox user when they show up.
Ice getting stuck in the locks is not a common problem with cluster mailboxes, but if you do end up having the problem of ice making it difficult to open the lock, a container of lock deicer can help you deal with the problem quickly.
Conclusion:
Now that you are aware of the convenience that these cluster mailboxes provide, you will surely want to get one installed near your home. Almost all cluster mailboxes come with the same features, however some differ in size, style and the number of compartments they include. Other than this, most of them are pretty much similar to each other.