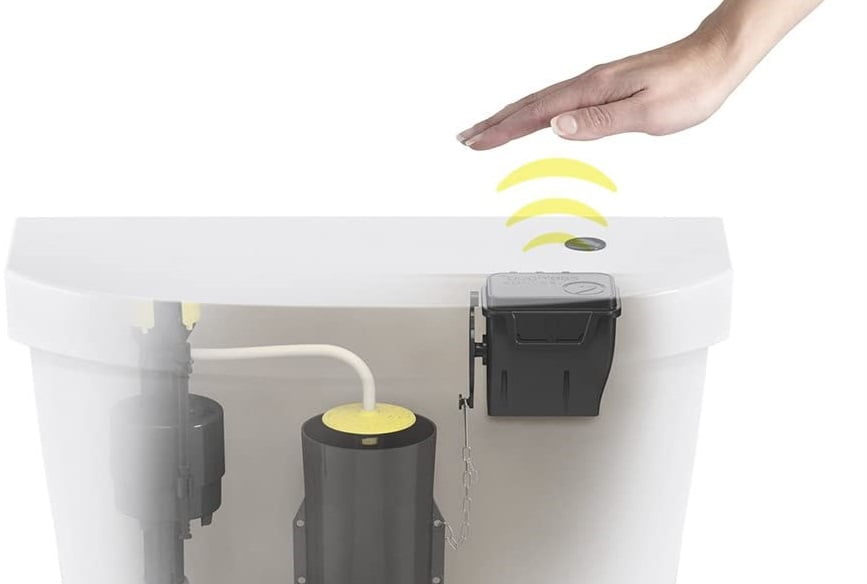 Best Automatic Flushers
for Toilets
Are you always worried about using a public toilet? Everyone cares about hygiene and cleanliness, more so after the pandemic. It is a welcome amenity to come across an automatic flusher for toilets in public washrooms. Did you know that now it is easy to install these in your home too? Even better is the fact that you can install an automatic toilet flusher on your existing toilet. So, you can get a hands-free convenience and germs-free environment in your home as well.
What Is An Automatic Flusher?
It may seem like magic to some, but a touchless toilet works on the principles of science. It is similar to a regular toilet but has an advanced flushing system. All toilets are a hotbed of germs, and touchless technology offers excellent protection. An automatic toilet flusher has infrared sensor technology which detects the movement of objects or people. The flusher works when the sensor detects a body and flushes water automatically.
Top 3 Automatic Flushers For Toilets
Choosing an automatic flusher for the toilet for your home is an important decision. You need something which works well as well as looks good in the washroom. You want it to be aligned with the overall design and environment of your home. Here are 3 automatic flushers that you can choose from.
1. Techo Touchless Toilet Flush Kit
The TECHO Touchless Toilet Flush is a popular option because of its reliable sensor technology and long lifespan. It is quite easy to install, and anyone can do it. You don't have to replace your existing toilet, which is excellent. The sensor on this kit is precise, and any movement or external environment will not affect it. The TECHNO Toilet Flush works efficiently and hygienically. You can upgrade to an automatic toilet, but the manual handle will still work as a backup. You have to wave your hand over the detection range for it to flush.
Moreover, you can adjust the detection range and flush time with a small screwdriver. This is included with the product. The external battery design makes the replacement easy when necessary.
Editor's opinion
Thanks to its many features, you will get only positive reviews about the TECHNO Touchless Toilet Flush Kit. It is excellent for people who share toilets with family members who are germaphobes or very particular about hygiene.
---
2. KOHLER K-1954-0 Touchless Toilet Flush Kit
Kohler is a reputed and top-quality name in bath accessories and fittings. With the Kohler Touchless Toilet Flush Kit, you get a great product that is stylish, good-looking, and works efficiently. The technology and innovation that has made this product stand apart from all its competitors. There is a sensor that is inside the tank and requires no touch for activation. It is powered by 4 AA batteries, which come with the product. The installation process is also very easy and does not take much time. The best part about this kit is that it is compatible with many types of toilets, so you don't have to replace your old toilet. The kit includes a module, hardware, battery pack, batteries, trip lever hole cover, and an installation guide.
Editor's Opinion
It is easy to upgrade your toilet with the Kohler Touchless Toilet Flush Kit into a more hygienic one. With easy installation the toilet can fit almost any kind of toilet. Once it is installed, you need to hold your hand above the sensor to flush. No handle and no touching means fewer germs and more cleanliness.
---
3. Zurn ZERK-CCP E-Z AquaSense E-Z Flush
The Zurn ZERK-CCP E-Z Flush is well designed to fit both urinals and water closets. It can be used with Zurn's and other manufacturers' flush valves seamlessly for a convenient retrofit application. The plastic housing of the kit is well made. It is impact-resistant and durable. Its manual override button ensures smooth function even during power failure. It is also ADA (Americans with Disabilities Act) compliant, which means it is easy to use. The amazing thing about this product is that users can install it in just 3 minutes on their own—no need to spend money or time on the installation. The technology used here is gear-based, and it works better than the solenoid models.
Editor's opinion
Zurn's E-Z Flush Retrofit Kit is an easy way to make your toilet more hygienic. It can be used with both urinals and closet systems. The product comes with two wrenches for easy installation. This product is perfect for high-traffic areas or commercial establishments. The Zurn Touchless sensor works well in any environment.
---
Buying Guide
When choosing a touchless flusher for the toilet, you need to keep certain things in mind.
Brand name: the best toilet flush systems offer better products with unique features. If you go for a not-so-reputable brand, you may get a cheaper product, but it most probably won't last long.
Features: always check the features that any product offers. You don't want a heap of features, but useful ones are necessary. Sensors that can be adjusted, impact-resistant modules, etc., are some useful features.
Specifications: this is extremely important because the product you buy must fit your existing toilet before buying; measure and calculate carefully to buy the right product.
Customer reviews: thanks to the internet, now you have an opportunity to check what other customers have to say about any product. Read the reviews to see which one is popular among the users.
Value for money: your budget is essential, and you must get good value for your money. A product does not have to be highly expensive for it to be valuable.
Durability: you can check for durability by checking the construction and quality of materials used. You want it to be reliable and work for a long time.
FAQ
Why does the automatic flusher sometimes fail?
Sometimes, the flusher does not flush when you want it to, and sometimes it may flush when you don't want it to. The main reasons for this are:
• Dirty sensor: if the sensor is dirty, it loses the ability to send and receive the infrared beam. It could be normal dirt or a build-up of minerals from the water. Regular wiping and cleaning will keep the sensor clean.
• Battery life: the sensors run on the battery, and as the battery drains, the sensor will stop working correctly at first and then completely stop working. Replacing the batteries at regular intervals will keep the system working smoothly.
• The position of the user: even after calibrating the sensor, some variations in the position of the users may affect the sensor's functioning. This will be more of a problem in public washrooms because users will stand in different positions. At home, it is easy to calibrate according to typical use.
Is there water wastage with automatic flushers?
Phantom flush, automatic flushing when no one is around, used to be a problem earlier. This phenomenon has reduced to a very low level with advanced technology, better sensors, improved calibration, and more interest in water conservation. Water wastage happens more in public washrooms. At home, the homeowners are around and can address any problem if it arises.
Can anyone install an automatic flusher?
Yes! Most touchless flusher systems can be installed by users quite easily. Most of the products come with detailed instructions along with pictures. A user will not take more than 15 to 20 minutes to install it on his own.
Conclusion
There are a variety of touchless automatic flushers for toilets available in the market. You can find them in different price ranges, offering different features. It is up to you to decide what you want. While choosing a product, if you think and assess your needs, you will select the most suitable one. The touchless toilet flush kits are easy to install, and the rest of the work is taken care of by the sensor. These kits run on batteries and mostly last for a long time. This is a great way to minimize the spread of germs and increase hygienic conditions. One thing that will surely happen is that you will have a great topic to talk about when the guests come over.
Reference
1. https://thepinkplumber.com/news/touchless-toilets-have-arrived
2. https://www.tap-sensor.com/blog/what-is-automatic-toilet-flusher-and-how-does-it-work.html