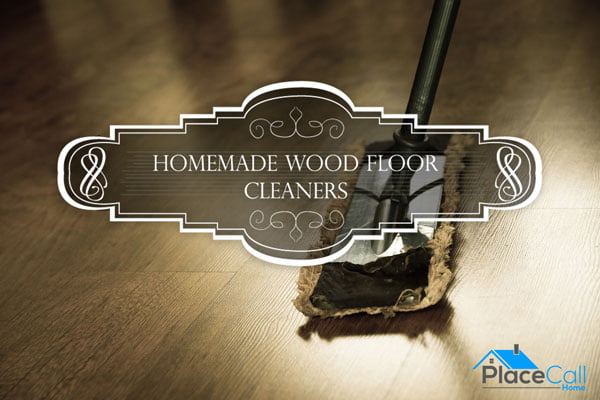 If your home boasts wood floors then you already know how hard it is to keep them sparkling clean. Despite numerous cleaners on the market to handle such jobs, some leave your floors streaky, while others leave behind an annoying wax residue that's hard to clean off. And you never know what really goes into store-bought cleaners and solutions. Many are filled with harsh chemicals that can be harmful to your family. Let's not forget how expensive cleaners can be, especially when you're trying to find the right one.
Instead of opting for store-bought items, go the eco-friendly route and create your own wood-floor cleaner that will leave your floors sparkling for days and will literally cost you pennies. And non-toxic cleaners are safe for children, providing you with relief that your kids won't be around harsh chemicals. You won't have to ban them to anther room while you clean your wood floors. Your kids can even help clean if they're old enough! Another benefit of using a non-toxic wood floor cleaner is that it will keep the air you breathe in your home nice and clean.
This recipe can easily be sprayed directly on to your wood floors, used in a bucket or poured over some cotton clothes to create reusable floor wipes that you wash and save for later.
Homemade Wood Floor Cleaner Ingredients:
Funnel
Plastic spray bottle
2 cups of warm water
¼ cup of rubbing alcohol
½ cup of vinegar
1 tablespoon of castile soap or just a small squirt of regular dish soap. Mixing vinegar with castile soap decreases the effectiveness of the soap and will likely ruin/clog any spray bottle you mix them in.
Essential oil (optional)
Directions
Once you have all the ingredients and materials for making the homemade wood floor solution set out a workspace away from children. Know that you can buy castile soap at health-food stores like Trader Joes and the like. And know that they come in a variety of great smelling scents! You'll need rubbing alcohol since it will keep your floor clean and won't let it dry covered in streaks. The vinegar will naturally clean and refresh your wood floor. Vinegar is also widely used to remove pet odors.
After you measure all the ingredients, pour them into the plastic bottle. And if you really want to be more eco-friendly, you can opt for a used spray bottle container. If you opted to use essential oil, now's the time to add about 10 to 15 drops of your favorite one, which makes the cleaner become a welcomed home refresher.
Now you'll have to slowly add the warm water. Once you're done, you're ready to start cleaning your wood floors. To use, just spray over the floors and wipe clean with a cloth. If you're cleaning a larger area of floor, pour cleaner in a bucket and use with a mop.
And there you have it – an easy non-toxic wood floor cleaner you can make at home that's great for your family and the environment!
Alternative cleaners:
Grape and Lemon Cleaner:
1/2 cup of Grape seed oil
1/2 cup of Vinegar
1 galon of warm Water
2-3 drops of Lemon oil
For those that do not like vinegar smell:
2 tbs Oil
2 tbs Castille soap
2 tbs Alchohol
24 oz Water
2 tbs Oil
2 tbs lemon juice
2 tbs alcohol
24 oz Water
Warning!
Check what type of wood floors you have and also what type of finish is on them before applying any cleaner. Ingredients like vinegar and alcohol may harm your floors.