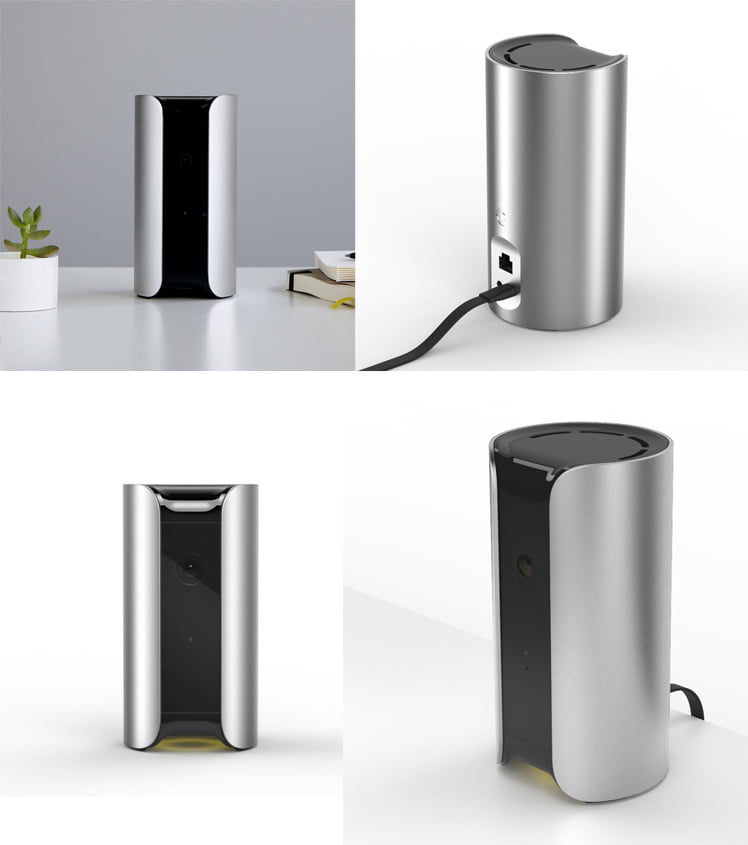 Unlike the typical system, Canary does not come with any door sensors, but it is a sensor by itself. It is an all-in-one product where it is a night and day camera which is able to detect any motions, temperature change and quality of air in a specific space. Canary is best used in an open space such as the kitchen or living room.
Features:
See and Hear: Stream real-time video of your home with Canary's 1080p HD camera, 147 degree wide-angle lens, automatic night vision, and high-quality audio.
More Than a Camera: Protect your home with Canary's 90+ dB siren, motion-activated recording, auto-arm/disarm, and optional professional monitoring.
HomeHealth Technology: Monitor air quality, temperature, and humidity to help understand how your home might affect your health.
Intelligent Notifications: Receive instant video alerts on your iOS or Android device.
No Installation/Contracts/Monthly Fees Required: Plug in Canary, connect to the Internet and you're ready to go. Free secure cloud storage included.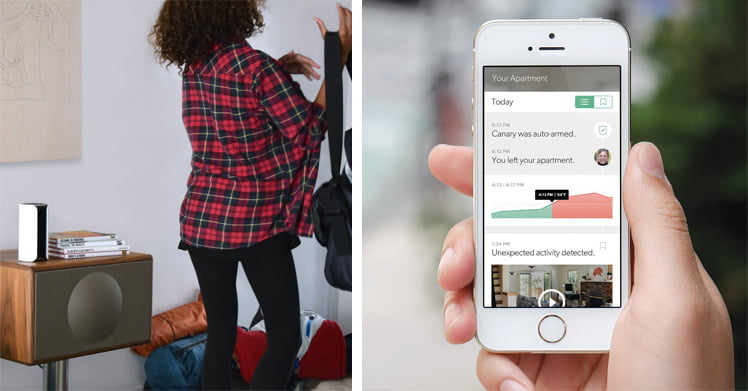 Customer reviews:
4.0 out of 5 stars It's getting better…
By crf3973, March 25, 2015
The update on March 27 fixed some issues. Here is what still needs to be worked on:
– there needs to be a way to restart the device remotely instead of having to pull the plug to restart.
– when canary is armed and the device switches to the regular vision from night vision the device makes an activity alert out if it, no need for this.
-there needs to be a way to delete videos from the timeline.
-there needs to be a way to save the videos onto the camera roll so that they can be exported.
– there needs to be a way to set custom monitoring alerts for temp, air quality and humidity. Such as a sudden rise in temperature (fire) should send an alert.
– there should be an alert if the device loses connection to the canary cloud (ie power loss or a disruption from the Internet).
---
1.0 out of 5 stars. Has potential but not ready for prime time.
By JD, March 24, 2015
This review is from: Canary All-in-One Home Security Device – Black (Electronics)
Has potential but not ready for prime time. Have had mine for quite some time; was one of the backers before it was released. I am an IT professional and not a novice with regard to technology.
Pros:
Excellent image quality. Excellent audio quality. Wireless. Not particularly difficult setup. Nice design that does not look like a camera and blends in well. Uses cell phone proximity to determine when you leave and arms/disarms itself. Captures motion all the time but only alerts when it is armed (nobody home). Good review capability of captured events whether armed or not.
Cons:
As many have said, this device cannot be relied on to provide any real home security. Device seems to work fine but too many issues with the service. My Canary has dropped offline repeatedly for no particular reason. Phone app actually says it is offline but in reality most of the time it is not. Cannot pull up live view but scrolling through captured events there are many recorded events that occurred while the device was "offline". Sometimes it comes back by itself but far too often requires cycling power to get it back. So, the only time you really need it (not at home), is the one time when you can't get it working again. Cycling power is actually just a way to reboot the device and after several rounds with support, I have been told that the ability to send a reboot signal from the phone is in the works but not there yet. That will help A LOT but won't address all the issues. Also find that live view fails often; just won't pull up anything. Same thing happens when viewing recorded events. Some will play and some won't. All in all, it appears that the device itself is very well done and has great potential. The weakness seems to be almost entirely with the back-end services which are critical to making the device useful. Only time will tell if it gets better and I hope it does. I really wanted to like this thing but as mentioned before, it currently has almost no use as a home security device that you could trust.
04/01/15 Update
Recent app update that moved buttons around but didn't fix anything. Offline again last night for 18 hours until I rebooted by cycling power AGAIN. Of course every time this happens, the device is not really offline; just not connecting to their server. I have 15 wireless devices that I have had for anywhere from 6 months to several years. My wireless network is solid. This is the only device out of those 15 that goes offline and stays offline. Really hoping for a fix. Still 2 stars.
05/1715 Update
I got burned. Improved for just long enough that I was ready to update and say all was good but then the cycle bottomed out. Reboot 4 times last week and still waiting on ability to send reboot signal from my phone. Canary promised but hasn't delivered. Every time I really need it to work, that's when it doesn't. Should have demanded my money back a long time ago. Based on symptoms, I don't think my Canary has really been off line more than twice since I got it; what's really off line is the Canary service. I'm thinking a home-grown server in some guy's basement (and he lives on beachfront property in Arizona). Knocked it down to 1 star due to net improvement over time non-existent.
---
4 out of 5 stars Great! But can improve with more functions.
Byyoungon June 12, 2015
The camera has good quality during the day or night. It has a wider angle lens versus the competitors, so expect a bit of a fish-eye look to the camera footage.
Item works as advertised, but it has very basic functions at the moment. For example there is no way to view the recorded video on a computer browser, you must view the footage from your phone only. They did state an update is coming where you can view the imagine on a computer.
Its great that is has temp, VOC and humidity reader, but you can only view the last 24 hours. So it wont be replacing my Netmo anytime soon. Also it would be great if it had a notification function if the temp hits a certain degree.
Missing functions as being able to set notification options is also lacking.
Auto disarm, and rearm functions well for me.
Nice to be able to use fingerprint sensor on my iPhone to access the app was a nice touch.
As it stands today, it has a lot of potential, but in its current state it can definitely use a new features.
---
Conclusion
Canary security system is a fairly new concept in home security world. Therefore, it is continually being developed and improved by their creators. During it's short life, customer reviews shows consistent increase in quality and features Canary system holds. Decide, if you prefer modern, futuristic, evolving security system or stick to the traditional system like iSmart Alarm.