With the environment becoming an increasingly important topic, the subject of a living green roof often comes into play. You may have heard about these living roofs or may have seen tidbits floating around on the internet about them but are probably unsure of their many benefits. While there are a few cons to having a living green roof, the benefits are quite substantial and make this a real option for anyone from homeowners to apartment building owners alike.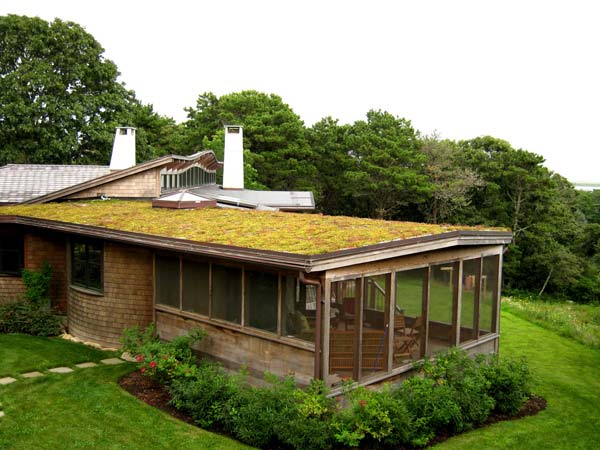 Benefits
With so much metal and concrete surrounding us, we often feel like we've lost an essential part of living, that being nature. Green roofing systems allow you to bring back nature into construction, provide a great visual appeal, and provide us with an extra bit of natural beauty that also serves several important purposes.
Green living roofs on large buildings can provide a nice outdoor space for tenants that they would not otherwise have living in cities and can add significant value to the atmosphere of a large unit. The average home can also benefit aesthetically from all a living roof has to offer and can provide a form of landscaping most people wouldn't think of adding.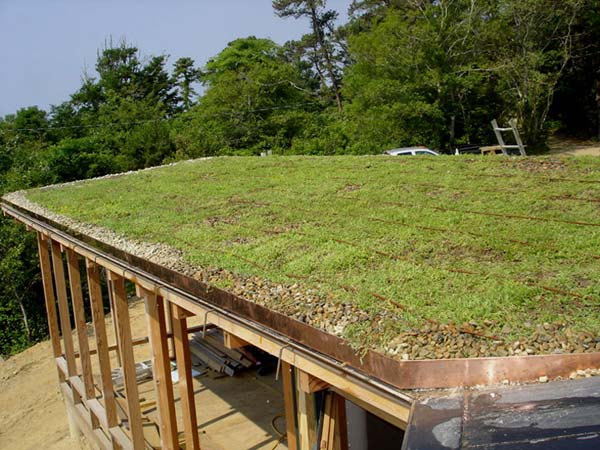 The environmental benefits are quite substantial. A living roof reduces the amount of materials which end up in landfills through the longer life expectancy of the roof itself, extend the life expectancy of heating and cooling units, use recycled materials, and purify the air and water runoff.  As urban centers are quite hotter than we'd like them due to all that concrete and steel, use of a living green roof can substantially lower the temperature of the building itself as well as the environment around it. This reduction in the Urban Heat Island (UHI) effect happens when the living vegetation on the buildings horizontal and vertical surfaces absorbs heat, which would otherwise be deflected and increase the overall temperature of the area. This roof type also filters pollution, reduces dust, and can reduce the effects of greenhouse gases.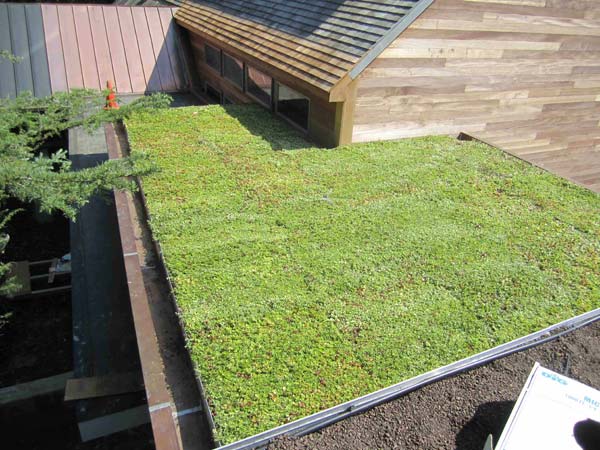 Green roof also helps with storm water management. Instead of rainwater and melting snow pouring off of roofs onto sidewalks and then being picked up by the storm drain system, roof structure absorbs the water for the plants' use and are eventually put back into the environment through the usual process of evaporation.  Plants causes changes to the water temperature further cooling the area and also filter toxins and pollutants which would normally end up in the storm drain system eventually turning up in the water supply.
Air quality is drastically improved in communities which use living green roofing systems as plant life also filters the air. Plants breathe in carbon dioxide and emit oxygen as part of their normal function so this not only cleans the air, it adds more oxygen to the air.
This roof type will also give considerable savings in your heating and cooling budget through their insulation factors. Many websites are available which can tell you how much you are likely to save depending on building type, but some studies revealed that it reduced the need for heating and cooling by up to 75%.
Green roofs also reduce noise level within the home substantially, act as a fire retardant, and can reduce the amount of electromagnet radiation from nearby wireless and communication towers.
Green roofs also provide an ecosystem for birds and other beneficial wildlife, the types of which can depend on what time of plant life you will include in your roof design. With some roof types, herbs, vegetables, fruit, or medicinal plants are also included adding extra value to your roof beyond its cosmetic, cost savings, and environmental appeal.
Here's a great video from Tedx talk about green movement.
Here is an infographic about Ford's green roof.

Disadvantages
Cons of a green roof include the initial expense involved. Any new roof is expensive, so we just naturally think costly when we think of roofs anyway. This con is nearly negated  by the fact that this roof type will outlast the more usual asphalt shingle roofs and their toxic additions to the environment. It requires more maintenance than a standard roof. Dead plants aren't really going to do you any good. This roof requires that you take care of it much like you would take care of your yard.
Repairs associated with any leaks further on down the line can cost a bit more as the person hired would have to dig down through the vegetation and its medium underneath. As this roof is a living ecosystem, you can count on live things wanting to live in it. If you don't like birds, rodents, or bugs on your roof, this roof isn't for you. These are a natural part of an ecosystem and do help to keep it in balance.
On the downside, the occasional critter can make its way inside your home should you have a hole in your roof later on. If you had a hole in your regular old roof you'd be likely to have birds, rodents or bugs find their way in anyway so this isn't that big of an additional risk factor. As stated above, the issue would only really come into play when having to repair a section of roof at some point due to the digging and replacing of materials when the job is completed.
Conclusion
There are several types of green roof available, both the standard or modular types, and each has its own set of pros and cons to consider. Do some research, speak to both green roof and standard roof contractors to help you and assess whether this roof type is for you.
If you have any question, feel free to contact us or drop a comment below.