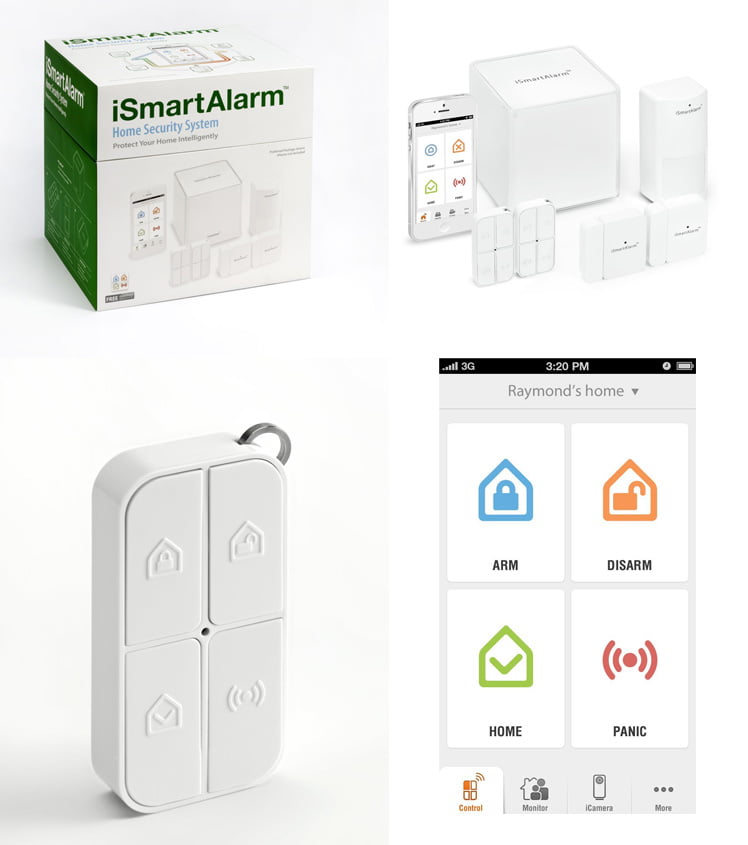 This system is suitable for those who wish to monitor all aspects of their home safety. The great part about it is, you can build your home security system bit by bit following your budget and purpose. The types of detectors available are the motion, presence, entry, smoke. Therefore, you can build and customize depending on your needs.
iSmartAlarm is a convenient and effective method for monitoring a home and granting users control over devices in their home. Install iSmartAlarm wireless sensors in a home, apartment or dormitory and easily access real time feedback data on an iPhone or iPad.
The primary control for the iSmartAlarm system is your mobile device through a dedicated mobile app. A user with an iOS or Android device can arm, disarm, receive alerts, and monitor iSmartAlarm sensors at any time, from anywhere, in real time.
Technical Details:
Weight 6 pounds
Product Dimensions 7 x 7 x 7 inches
Batteries: 3 Lithium Metal batteries required. (included)
Color white
Batteries Included? Yes
Batteries Required? Yes
Average Battery Life 13140 hours
Warranty Description 1-year warranty
Customer reviews:
4 out of 5 Stars. Very nice for the price
By Stephen Drakeon May 24, 2015
This is not a bad system for DIY security. I purchased it for my mother because she lives alone. It was very easy to set up and she got the hang of it very quickly. The price was very good and no monitoring fees makes it even better. I have linked my phone to her account so I can monitor for her as well. I would recommend this product.
Pros:
Excellent price
Easy set-up
IFTTT channel allows the alarm to disarm when she leaves home and re-arm when she leaves automatically.
Cons:
Siren isn't very loud
Not a lot of add-one available
Overall she is very pleased with the alarm.
---
5 out of 5 Stars. iSmartAlarm Home Security System
By Neil Westbrookon May 23, 2015
I purchased this system about a year ago and love it more and more as I discover new ways to use it. I receive notifications within 10 seconds of a sensor being triggered. That's awesome! For me, it has functioned exactly as advertised. Everything about it works well. One of the best features is the safety monitor, located under the Notifications category on the app. When turned on, it notifies you via the app when doors open and close. When the system is armed, the motion sensor covers a wide area and even picks up my small dog. It completely covers my garage. If you're looking for a great home security system, I highly recommend. I suggest playing around with the app settings until you find what works best for you.
---
5 out of 5 Stars. Was good is now great!
By Daveon May 15, 2015
I was an early adopter of this system and I've had it since late 2013. Some hits and misses but overall if you're willing to accept a few things (see below), this system is an awesome preview of the future!
What is it? It's a security system that uses your internet connection instead of a hardline. It's controlled through a mobile app (apple and android are available). It's a self-monitored system which entails all the good and the bad: good because there are no monthly fees; bad because if ever you're unable to check your phone (ie. on a trip) then you can't act on anything. Anyway, it suits my needs perfectly because I really don't want cops to show up unless I want them to show up.
Pros:
-Very sleek: the system itself looks great. Everything is sleek and pure white. Sensors look good, cubeone has a nice led on top that tells you its status (alternating white to dark = good)
-Growing ecosystem: they seem to add new devices at the pace of 1 or 2 per year. There's been a new camera and a "smart switch" up to now. The smart switch allows you to turn on/off a plug through the app.
-Awesome features: the camera allows you to check in and look around your home. I use it to see what my sneaky "It wasn't me" dog is up to! You can toggle an option that tells you whenever a sensor is triggered (even if the system is not turned on). Super handy! They added a chime feature a while back: great! Can customize the sensors being turned on when the alarm is armed.
-Responsive customer service: I've contacted them 3 times and everything was eventually sorted out satisfactorily.
-Much more stable app vs 1 or 2 years ago. If you read old reviews, understand that things have changed since then and the ecosystem is much more stable now.
-Doesn't require a hardline. Just the internet
-Recently added IFTTT compatibility: ex: if I come home with my android phone, then turn off the ismartalarm.
Cons:
-Adding sensors can sometimes be tricky. Sometimes the app won't detect them. Kind of frustrating… What's worked for me was taking out the battery and running the "scan for sensor" a couple times. Haven't been able to identify the key to it yet…
-Hinges on having the internet and electricity. If either of those go down, then the system stops communicating with you. That's a bad thing. I do think the cubeone fires off one last "cubeone disconnected from network" message before going offline though so you do know if you've lost your network (ie. the internet). Anyway that's unnerving but "normal" alarm systems are just like that too unless you have cellular backup. Cut the phone line and voilà!
-Slow progress: get used to it and accept it before you buy the system. Development is slow and there are delays. Basically assume everything will take 2 times longer than stated… It's not the biggest company but they're doing what they can. Up to now, the results are very impressive.
Important things to know:
-The cubeone connects to your network via Ethernet cable. That means your cubeone needs to be close to your router. That's fine if your router is located in a central location but if it's far then the cubeone's siren may not be loud enough. Ismartalarm is developing an auxiliary siren which should be released later this year (late 2015… or later…)
-Best way to install sensors… learnt this from the installers of typical alarm systems. Put double sided tape and a dab of silicone (GE, Alex Plus, etc… 2$ – 3$ at Home Depot) then stick your sensor wherever. The tape holds well enough for a little while and then the silicone hardens and that sensor won't go anywhere. Doesn't leave marks if ever you need to remove. Just be careful…
-If ever you find that a window sensor gets caught when you open/close a window, you can switch out the magnet part for a smaller magnet. It'll still work fine and it'll free up precious room.
-Searching the forum located on their website can always help you troubleshoot issues.
-Here's what to expect if the alarm is triggered: you get a text message; you get a phone call; if the option is turned on, you'll get a push notification from the app. It'll also do the same to whoever else you've added as a member of your system (ie. your better half, your parents, etctetc…)
All in all, it's beautiful thing: camera; many customizable components; and it interacts beautifully with your phone. I love where this is going and even though progress is slow, I love what it has added to our home.
---
3 out of 5 Stars. very easy set up but hard to change to another phone …
By Martha C.on May 5, 2015
very easy set up but hard to change to another phone if you want to make it the primary phone later. Support is only via e-mail and takes about two days.
---
Conclusion
There are various reviews and most of them gave a positive feedback for iSmart Alarm. Although, there are some minor flaws, but with its reliability, its overall ease of use, and its undeniable value, the iSmart Alarm is a legitimate alternative in home security, especially for small-home owners. Budget-minded consumers will be pleased with iSmart Alarm's low price and no monthly subscription or any additional fees. Give it a try and leave us your feedback.